50 Inexpensive Thank You Gift Ideas (to stay on budget in 2023)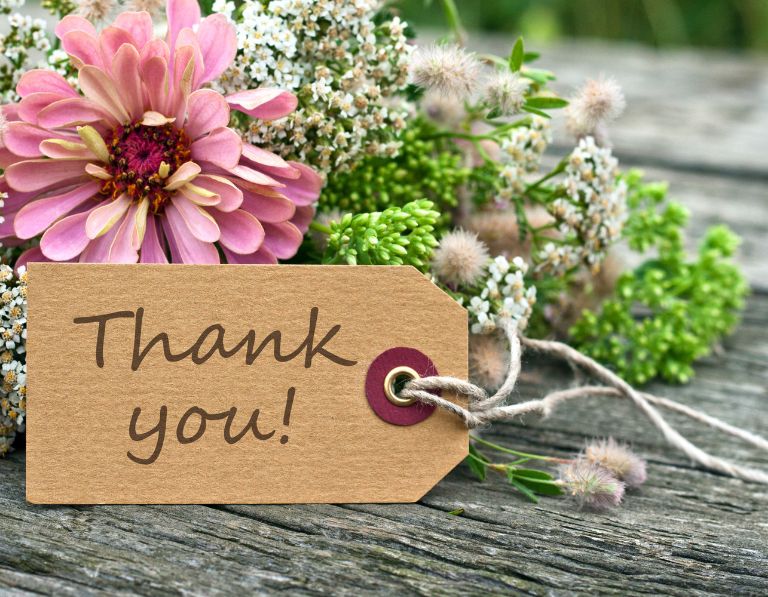 Are you looking for inexpensive thank you gift ideas? This is the perfect list for when you want to say thank you without breaking the bank.
This post contains affiliate links, and we may earn a commission at no cost to you. See our disclaimer for more.
What do you buy someone to say thank you?
There are a lot of supportive, deserving people in your life. Let them know how much you appreciate them with an affordable gift:
Friends & Family
Teachers
Employees
Coworkers
Volunteer workers
Clients
Host/Hostess
Neighbors
Caretakers
Use the inexpensive thank you gift ideas from this list to help you stay on budget. Many of these ideas are free and all of them are under $15.
Use the tips throughout the article to make your gift meaningful and unique but also budget-friendly for you.
small inexpensive thank you gift ideas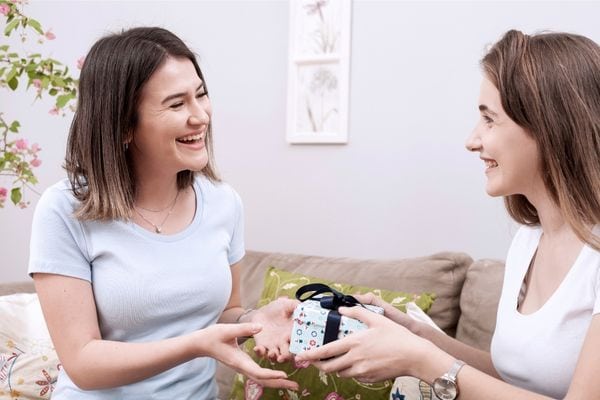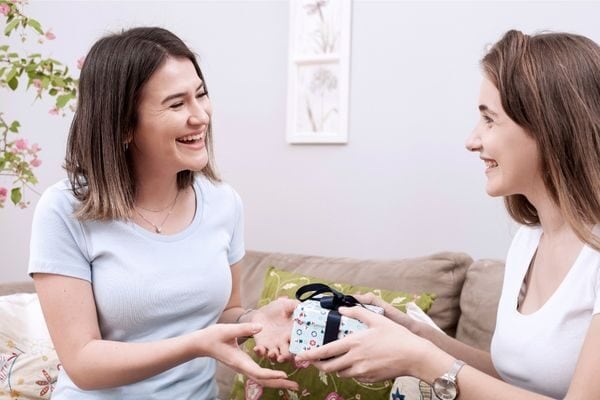 When considering a thank you gift for someone, the thought truly does count.
Plan ahead and stock up on a few items in bulk that you may be able to give out throughout the year to several people.
1. Send a handwritten note
*The perfect gift for anyone (and goes well with all other gifts too)
Sending a handwritten note is a free, but meaningful way to thank someone.
I have a friend that handwrites me thoughtful thank you notes often. In fact, I save the notes given to me because it means a lot that someone takes the time to write them.
Be specific in your note about why you are thanking this person and what their thoughtfulness meant to you.
*Buy blank notecards in bulk to keep at home to add to a small gift or use on their own. I have found great deals on notecards at craft stores. Use these cards for birthdays and other occasions instead of spending several dollars on a single card.
2. gift card
*Easy teacher gift
Give a small gift card to a place your recipient loves. If they are a coffee lover, buy a $5 gift card to their favorite coffee shop. They will be able to use it for one coffee.
3. dessert for one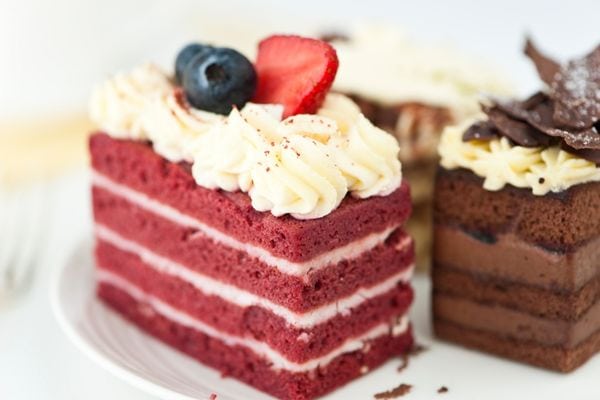 Go to your local bakery and pick out an individual dessert that your recipient can enjoy. You can find something that is cutely wrapped and ready to go.
Check out these cute individual bundt cakes for around five dollars for another delicious idea that won't break the bank.
4. bake something
The list is endless here. Pick something you enjoy baking and give it away.
You will likely already have most of the supplies in your pantry and this is an inexpensive but meaningful way to show gratitude.
mini loaves of banana bread
cookies
brownies
homemade bread
cinnamon rolls
homemade granola
Baking something yourself is also a great way to account for food allergies.
5. Bottle of wine
*Great inexpensive hostess gift
If you know the person receiving the gift loves wines, find an affordable but quality bottle to give them. Ask someone at the store to guide you in finding a good choice if you are unsure.
I had an adult student recently give me a mini bottle of wine that had a label personalized for me. Grab mini champagne and wine thank you labels and keep them around for this purpose.
6. Magnetic Bookmarks
*Excellent choice for readers
Magnetic bookmarks are a cute and useful gift for anyone you know that likes to read. For less than six dollars, you get 15 bookmarks in this set. It could be divided into three different gifts.
I used magnetic bookmarks this year as frugal stocking stuffers for the women and men in our family. There are a variety of options!
7. Card game
You can find a lot of card games for under ten dollars that are fun for adults or to share with the entire family. UNO is our family favorite right now and Farkle Flip is another good choice for adults or families.
8. Journal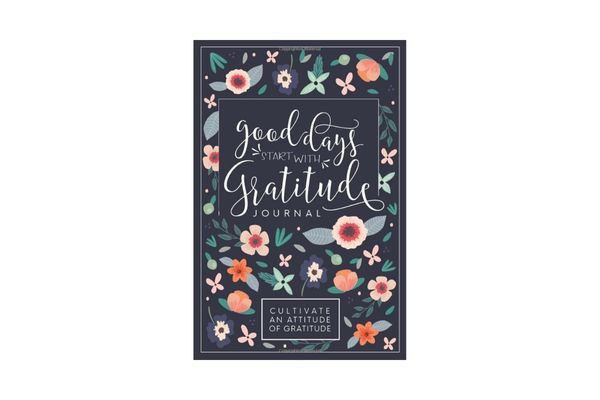 A journal is a great gift to save memories and express daily gratitude. Many adults enjoy this practice or would like to start a journaling habit which makes it a perfect inexpensive thank you gift idea.
9. Coffee and Tea
*Great coworker and friend gift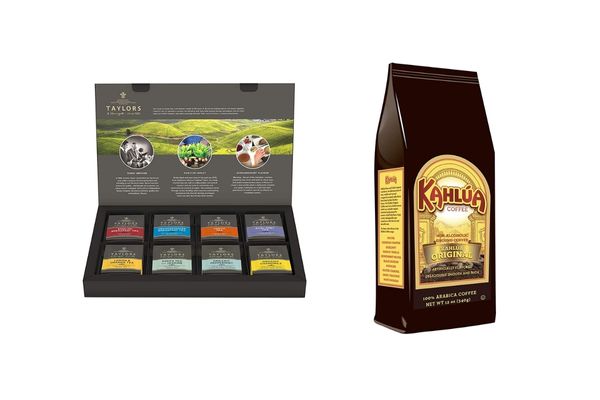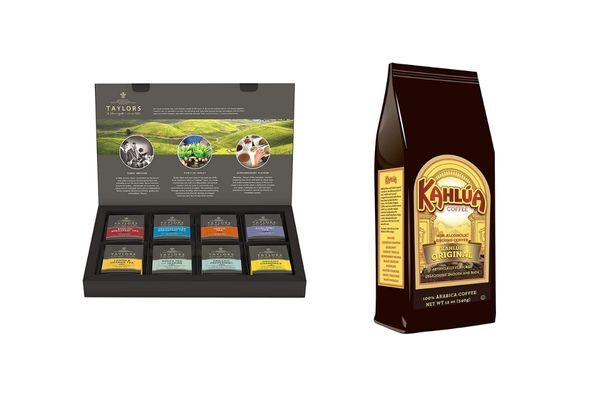 A tea assortment or unique bag of coffee are useful and practical appreciation gift ideas. And almost anyone would use them.
It does not have to be fancy or a large amount of the item you choose, but try to find out which drink your recipient would prefer ahead of time.
10. Coffee Syrup Gift Pack
If you know the person you are wanting to show gratitude towards is a coffee drinker, consider giving them these delicious coffee syrups to try out.
11. Candle
For the candle lover in your life, check out this cute thank you candle.
12. Succulent house plant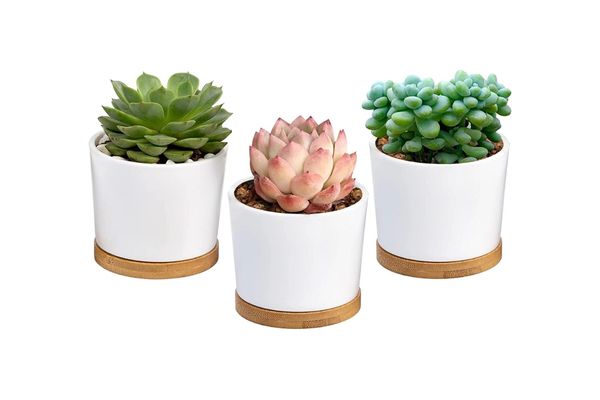 Succulent plants make great plant gifts because they are easy to keep alive without much effort. And they are a great addition to any space in your house.
This group of three can be given all together or separated into different gifts. I have often found great deals on succulents at local home and garden stores that are already in cute pots. Look inside the store for these plant varieties.
If you already have a large succulent, you can divide the plant and put it into a new pot to give away. Reuse a pot you already have or go to a discount store to find a cheap one.
Plant the divide plant at the same depth they were originally.
Tap new soil around the plant for support.
Allow plant roots to adjust for a day or two before watering.
13. make a bouquet
*A thoughtful gift everyone loves
Who doesn't love getting flowers? If you have a garden or flowerbed, pick a bouquet to give as a gift. Sometimes flower stores will sell a few stems for cheaper if you ask.
Place them in a small mason jar or simply wrap the stem with ribbon. Make someone's day with this thoughtful gift.
14. Jewelry dish
For a custom thank you gift, I love this personalized jewelry dish. It can be placed in the bathroom or by the kitchen sink to keep rings safe when washing.
15. Framed picture
Frame a picture of you and the recipient from a fun event or time. Or just give a frame as a gift on it's own.
16. Books
For the booklovers in your life that you are wanting to say thank you to, this is a perfect gift. Look for bargain books or opt for a used book that is in good condition. I have ordered used books on Amazon several times and have received books that look like new.
Pass on a book you have already read (that you really loved) to stay thank you. Express the reason you have decided to pass on this specific book to your special someone to make it even more meaningful.
Check out this list of great inspirational books for women for more ideas!
17. Reusable water bottle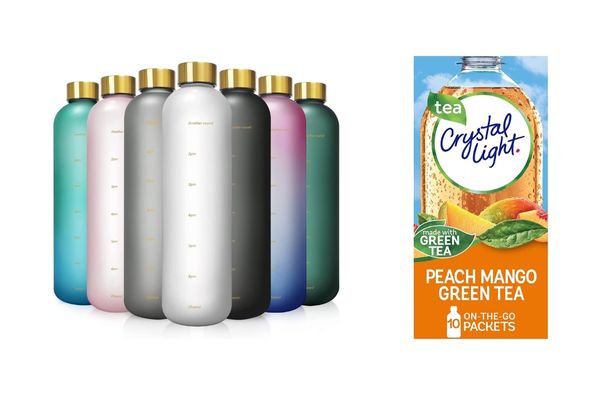 These reusable water bottles are perfect for daily use and are cute too. Add yummy drink mix pouches to complete this gift.
18. Novelty note pads
Notepads are an excellent gift that anyone can use for daily reminders and lists.
This is a cute pack of ten notepads and you can choose from four different styles from funny humor to meaningful affirmations.
unique thank you gifts: Free and Cheap
19. Freezer meals
*Awesome appreciation gift for moms
This is my personal favorite because I get tired of the question "What's for dinner?"
So, I began doubling recipes to make my own freezer meals and eventually started planning freezer meals as gifts.
The best part of prepping a freezer meal is that it can go right into the freezer if they aren't ready to eat it. Then they pull it out on a busy day.
This Southwest Chicken and Rice recipe is a current family favorite that's easy to prep, freeze, and then throw in a crockpot. Meatballs, homemade spaghetti sauce, and taco soup are other freezer meals that make delicious and inexpensive thank you gifts.
20. Make Homemade soap
Make your own soap! My husband started doing this a couple of years ago and we have enjoyed creating our own natural soaps and giving them out as gifts as well.
The benefits of handmade soap is you can control the ingredients and skip the chemicals. You will spend a little money to gather the materials at first, but then you get a lot of soap out of it.
If you are interested in soap making on a budget, check out these tips.
21. Make a homemade craft
If you are crafty, or like to knit or sew, use one of these talents to make a gift.
A couple of years ago I made twine wrapped letters for door hangers for a few friends and family members. If you find one craft you like to do, you can purchase materials to make several.
22. Scrapbook Or Photobook
A simple scrapbook is another crafty idea if you have several photos of you and the person you are wanting to say thank you to.
Or to make it even simpler, opt for a photobook instead. You can also do photobooks online to make it easier. Keep the number of photos you use to a small amount to keep it cheap.
Check out snapfish.com or the free chatbooks app which is super convenient for uploading photos right from your phone.
23. Vegetables from your garden
*inexpensive gift for neighbors
If you have an awesome summer or fall garden harvest, put vegetables in a cute basket or bag and give them away.
Include a recipe for homemade salsa or a delicious salad idea you enjoy to elevate this free gift.
24. Give something for their pet
If you are gifting a friend or acquaintance that you know has a pet they love, consider giving them something they can use with their pet or a unique gift about pets.
25. Office Supply Kit
*Inexpensive gift ideas to thank teachers, coworkers, employees
Show gratitude by putting together a small bag of office supplies they can use at work. Pens, sticky notes, notepads, and metal clips are useful options.
Inexpensive thank you gift Ideas to pamper
Give one of the following gifts or make small pamper gifts sets for her out of the following thank you gift ideas under $15. These items make unique, fun, and useable gifts for any woman.
Remind your recipient to take the time to pamper herself while enjoying the gift!
26. Stress relief essential oil
Thank someone and offer stress relief with an essential oil roll on blend to give an aroma of calm.
27. Hand Care Products
*Perfect gift ideas for volunteers!
For anyone who has lent a helping hand to you lately this three hand care product set is perfect for pampering.
You also can't go wrong with this hand cream gift set. For under $10, you can split up the box and use the six lotions as multiple gifts.
28. nail polish Bottle or nail Polish strips
If you know the gift receiver's style, gift them a bottle of nail polish or nail polish strips. It's cheaper than a main or pedi, but still makes someone feel pampered.
29. At Home Face Mask
Mix up an at home face mask and invite a friend over for an at home spa afternoon. Or gift them their own refreshing cucumber sheet mask.
30. coffee butter scrub
For a coffee lover that likes to be pampered, check out this coffee body scrub that exfoliates and moisturizes the face and body.
It also comes in a variety of scrubs including coconut, watermelon, lavender, sweet orange, and Himalayan salt which makes it a perfect gift for a variety of people.
31. Wine Lip Tint
That's right, this is lipstick and gloss that looks like little bottles of wine! What a fun and inexpensive thank you gift!
Make someone's day with this unique thank you gift.
32. Scented Roses Flower Bath soap
Looks like roses, smells like roses, but it's soap! It's also under $10 and a beautiful and clever gift to give. Find it here!
33. Aromatherapy shower Steamers
Gift the gift of relaxation with an aromatherapy shower steamers gift set.
34. Personalized Make up bag
Fill a personalized makeup bag with a lip gloss, lotion or any other ideas mentioned above.
Another affordable idea is to fill the bag with the recipient's favorite candy or gum to make a meaningful thank you gift.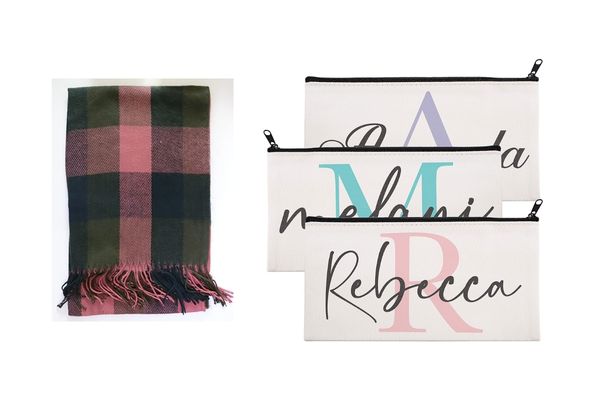 35. Winter Scarf
A long shawl is perfect for a winter thank you gift that is both affordable and pretty. Pick from a variety of colors and give a gift full of warmth.
36. Ice roller for face
I love this ice roller for the face and body. It helps me when I have a headache or if my face feels puffy from lack of sleep! Plus, it's an inexpensive gift to pamper someone else.
<<Find more ways to treat yourself (or someone else) on a budget>>
More inexpensive (and free) thank you gift Ideas
37. Send a video message
For a personal touch, send a video message or Facetime with your special someone to thank them for their help. This is more meaningful than a text message or email and will brighten someone's day.
38. Offer to help with a home project
If you have a skill set that will help someone around their house, offer to assist with a project they are working on.
A similar idea is to offer to lend tools that you know they need for a home project. This will save them money and is an excellent way to show gratitude.
39. Babysit, dog-sit or house-sit
Offer to help out with babysitting, dog-sitting, or house-sitting to show appreciation to someone who has gone out of their way to help you.
This can really lighten someone's load, save them money, and it's a free way for you to show your thanks.
40. host a gathering
If you are trying to thank a close friend or loved one, invite them over to spend time catching up and laughing together. Open a bottle of wine and enjoy a relaxing and low cost evening.
41. Movie night Gift Box
Put together an inexpensive movie night gift box that includes popcorn, popcorn seasoning, candy, and soda. Jot down a few movie titles that you have enjoyed lately or offer to lend out a movie you own.
42. Give a Favorite snack
I was recently under the weather and a friend dropped off my favorite snacks at the door. It was a cheap but meaningful way to show she cared and would also make a great thank you gift idea.
To make it even more unique, attach a note with a catchy phrase to it. Pinterest has a ton of ideas for this!
Examples: You are a LIFESAVER! Thank you so much! or Just POPPING in to say thank you!
43. Drop off coffee, tea, or soda
This is an awesome thank you gift idea for any coworker, teacher, volunteer, neighbor or friend. Drop off a drink you know they love from their favorite place.
It's a cheap way to say thank you but it also gives them an unexpected mood boost during their day!
44. Find Bargain gifts
Check out places like the Target dollar spot or look for sales frequently on things you know you will use as gifts.
The key is to only buy something that is a good deal and you will be sure to use.
Keep all of these items in a certain spot in your house so that you don't lose track of them. I have a drawer that I frequently go "shopping in" when I need a small gift for someone. (I also use this trick for kid birthday party gifts.)
45. Plan a fun and free outing
Pay someone back with a free outing. This could include attending a free outdoor concert, inviting them to an author visit at the local bookstore, taking your dogs to a dog park, going to a local lake or beach, taking a hike, or attending a free workout class.
Find something that you both will enjoy so that it seems like a gift.
Many museums have free days or discounted days. Find out when they are and use it as an inexpensive thank you gift by taking someone with you. Check your local library to see if they have passes you can use to visit local museums for free!
46. Regift
Regift when you can! You likely have something in your house that has never or rarely been used. Declutter with a checklist and find great gifts others will love.
Examples include:
vases
books
candles
unopened chocolate or coffee, or bottles of wine
mugs
plants
gift cards
picture frames
unused bath products
It's 100% okay to regift when looking for inexpensive thank you gift ideas.
47. Blank Coupon Cards
Make or buy blank coupon cards that you can customize especially for the gift recipient.
48. Inspirational Quote Jar
Fill a jar with inspirational quotes or thoughts that can be used daily by the recipient.
49. Go on a picnic
To thank someone special in your life, organize an outing at your favorite park with a blanket and homemade food and drinks.
50. Go to Happy Hour
Treat this special someone at a local place with a good happy hour. Enjoy a cocktail or split an appetizer from the happy hour menu to thank them.
Look here for more things to do and visit when broke or on a budget!
to consider with inexpensive thank you gifts
My hope is that you have found some creative ways to express gratitude in a cost effective manner.
Let me know in the comments if you have other ideas for inexpensive thank you gifts you have enjoyed receiving or giving away.
Other Wealthy Woman Posts you May enjoy…
cheap thank you gifts (2023)