131 Fun Things To Do When Broke (or on a budget) in 2023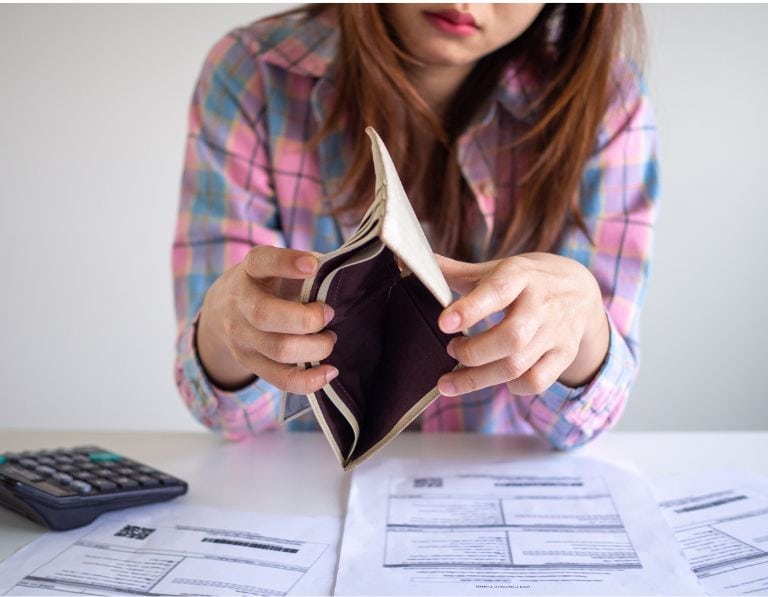 We've all been there.
There's not much (or any) extra cash.
Or unexpected expenses have come your way and it's time to tighten up the budget.
Whether you are a college student, young professional, or mom of three, here's a comprehensive list of fun things to do when you are broke or on a budget.
This post contains affiliate links, and we may earn a commission at no cost to you. See our disclaimer for more.
can you have fun without spending money?
Being "broke" has different definitions to people depending on age and life stage.
Regardless of the definition, 86% of Americans say they've experienced being broke at some time in their life. (source)
Furthermore, at the start of 2022, 64% of the U.S. population was living paycheck to paycheck. (source)
With a little creativity and planning, we can continue to share fun times with those we love- even when we are broke.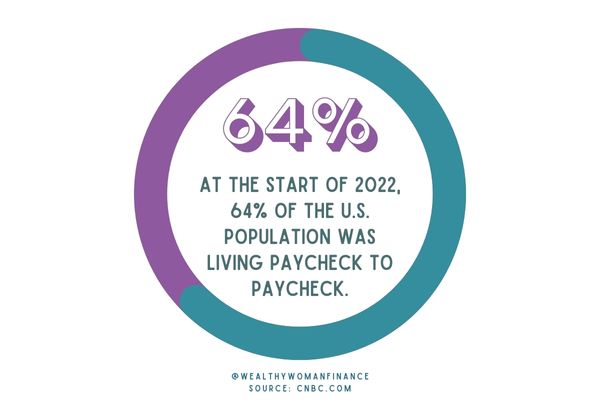 Fun things to do for free (or cheap) with friends
Alright, think back (if you have to) and channel your 20-year-old self. It's the weekend and the world is yours, minus a solid bank account. What are you going to do?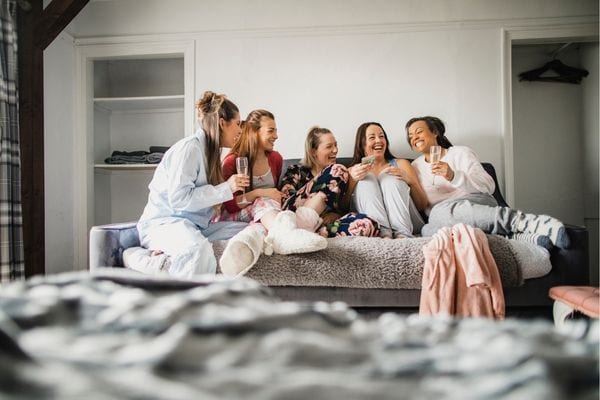 1. Girls night in
I try to get together regularly with a good group of friends for a girls night in. We usually bring a few snacks and a bottle of wine. We catch up and talk (and laugh a lot). That's it! No activity required. And it's the best time.
2. Host a game night
Invite your friends over and have them bring a snack and a favorite game. Options for a game night are endless. You can opt for board games, card games, or even bunko (it's surprisingly fun).
3. Start a Book club
Choose a book to read at the same time with your friends. For ideas, check out best books to start a reading habit. Borrow copies from the library in paperback, e-book, or audiobook format to make it free!
Read, meet, and discuss! Make it a success by planning ahead to give everyone plenty of time to borrow the book.
4. Host a potluck
Have everyone provide their favorite homemade dish and enjoy a delicious meal together. This is simple to host and the cost remains low. These are great hosting meals at low cost too: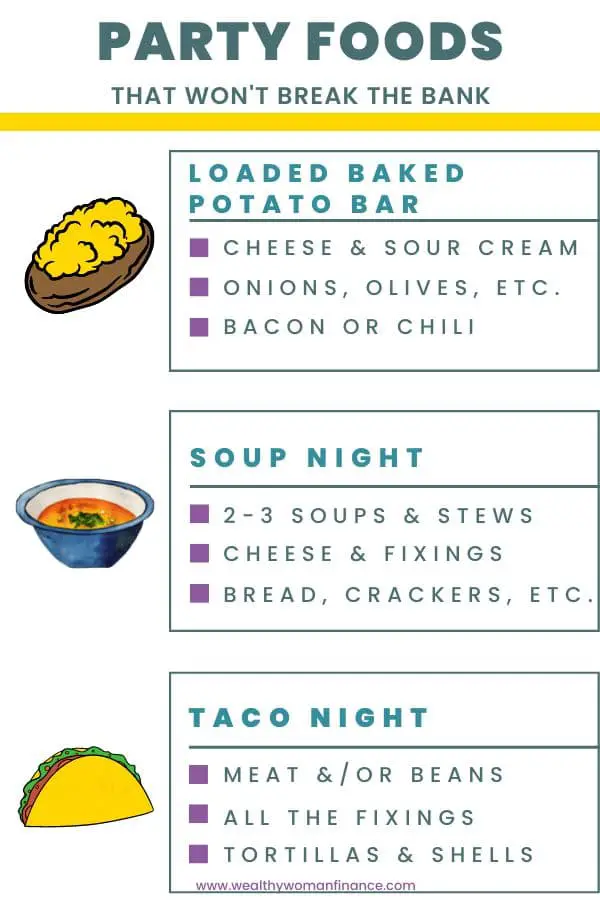 5. Spa Day at home
Invite a few friends over and have them bring their favorite nail polish colors. Do your own manis and pedis or take turns helping one another. Don't forget to soak your feet in a warm tub for a bit.
Try adding cucumber and lemon to water and refrigerate ahead of time to make it a more "spa" like experience.
6. Chick Flick movie marathon
Pop some popcorn, invite your girlfriends over, and watch all your favorite chick flicks. Or binge-watch a series. Great options include:
Bridesmaids
How to Lose a Guy in 10 Days
The Notebook
The Devil Wear Prada
Bridget Jones Diary
7. Trivia or bingo Night
Check around to see what bars or wineries have free trivia or bingo nights. I have played both at several different places close to where I live. Many places also have movie and tv series trivia themes.
8. Karaoke night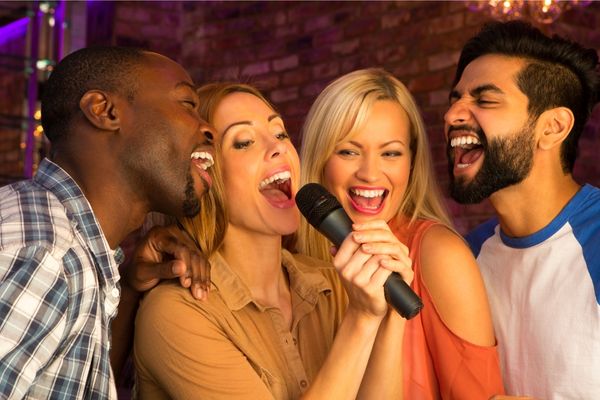 Check out a karaoke night at a local bar.
If you prefer to only test your vocal skills in front of friends, set up a karaoke night at home through a SMART TV app or karaoke machine someone already owns.
9. have a Swap
Swap books, clothes, games, puzzles, fingernail polish, etc… You will feel like you have made a new purchase without spending a dime.
10. go Window shopping
On a nice day, grab a coffee from home and take a stroll in an area with some fun window shopping. Leave your wallet behind if you will be tempted to use your credit card.
11. make a new Cocktail concoction
Gather up the supplies you and your friends already have at home, and try to come up with a creative and delicious new cocktail.
12. Have a Progressive dinner
A progressive dinner is a dinner party where each course of the meal is eaten at someone else's house. Keep it simple. If you have several friends willing to host, it's a cost-effective and delicious evening.
I did this with a group of friends back in college after we all moved out of the dorms. We were able to see one another's apartments and catch up.
13. Host a couples Night (things to do when broke)
Invite couples over for a game night or just to hang out.
If you have kids: Put on a movie in the basement so they have something fun to do as well without having to pay babysitters. Or pool your money together to get one babysitter (if that's all it takes) for all the kids attending.
14. Fire pit
Host a fire pit night complete with s'mores. Have everyone bring their own chairs and a s'mores component to contribute.
15. Start a fantasy league
Starting or joining a fantasy football league is not just for the guys. According to Greg Ambrosius, editor of Fantasy Sports Magazine, women account for 7 million of the 12 million players.
If reality tv is more your thing, play along with Survivor by joining their fantasy game. Or if there's a competition show you really enjoy, make up your own fantasy game with your friends.
16. Host a poker night
Borrow some poker chips and cards and pull together a poker game.
17. Play pool or darts at a local bar
Check out a local place to play darts or pool for free things to do when you are broke.
18. Go thrift store shopping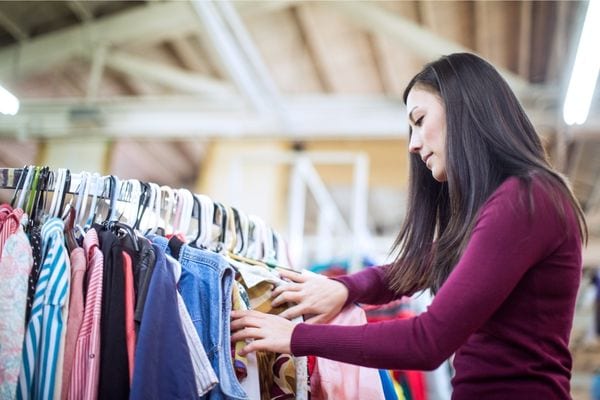 If you are wanting to buy new clothes for cheap, look for items at the local thrift store. Or just shop around for fun to see what they have to offer.
19. Complete a challenge
Who doesn't love a good challenge? And these challenges are free, will keep you entertained, and are enjoyable to do with friends.
20. play truth or dare
It's still fun to play as adults! Want a new twist? Play Two Truths and a Lie.
21. host an at home painting party
Find an online painting tutorial and spend the night being creative. To make this budget friendly:
Only gather one bottle of the primary colors (red, blue, and yellow) and then mix to make secondary colors. Add in black and white for more mixing possibilities if needed.
If you know what you are going to paint, only gather the paint you need for that specific picture.
Canvas panels come in packs, are more economical, and you don't need an easel to paint them.
Have everyone bring whatever paintbrushes they have at home.
things to do with no money (that will also make you happier)
The next activity items to do when broke are proven to boost your mood.
22. Take your dog to the dog park
It's a win-win. You will get out into nature which is a mood booster and you will enjoy time with your pet. Your pet will love it too!
23. take nature photos
Get outside and take a walk on a scenic trail and snap some nature photos along the way.
24. Day pass at a local gym
Many gyms offer a free day pass for first time guests. If you have a friend that attends a gym, you can ask them if they have any free passes or if you could attend a group fitness class with them.
25. Take a long bath
Taking a hot bath is relaxing, good for sore muscles, and helps you sleep better.
26. Call or facetime a loved one
Texting is convenient, but take some time to truly connect with a loved one by calling or Facetiming.
27. Write a letter or thank you note
Take time to write a handwritten note to someone you love. They will value and appreciate receiving it. (Try these other inexpensive thank you ideas too)
28. Play a musical instrument
Do you still have your old band instrument in the basement? Or a guitar or piano in your house? Freshen up your skills. Or look online for free tutorials for beginners.
29. Make a new music playlist to enjoy
What songs make you want to blast your car radio? Music is proven to make us happier.
30. Get Some Extra Sleep
Take a nap! Sleep enables our brains and bodies to reset, handle stress better, and it makes us feel good. Who doesn't love a good nap?
31. take A Walk In Your Neighborhood
We are lucky enough to live right by a trail that runs through our city and have spent countless hours walking, biking, and exploring. Plus, we get to see people we know and meet new people that live in our area.
32. Take a Bike Ride
If you have a bike, dust it off and take it for a spin.
more fun things to do at home (without spending money when broke)
33. Listen to a podcast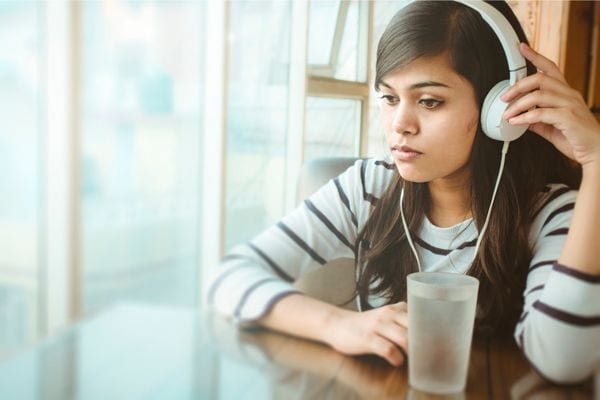 Podcasts have become one of my new favorite past times. Search and enjoy a variety of podcasts on everything including true crime, comedy, business tips, or meditation. If you find one you like, follow it to get the latest episodes.
34. Listen to an audiobook
Much like podcasts, audiobooks are easy to listen to in the car or while you are doing things around the house. I enjoy listening to books that are read by the famous authors who wrote them.
Check out audiobooks from your local library to listen to from your device.
35. Find a free online workout you will enjoy
There are tons of free online workouts to choose from. The key to following through with exercise (and even enjoying it) is to find something you like to do. What makes you feel good? Strength workouts? Yoga? HIIT? Zumba?
Tip for an effective at-home workout:
Make sure you have plenty of space. I have been known to workout in the garage so that I have room to move.
If you don't have dumbbells, use objects you have around the house (including water bottles or cans of food). Bodyweight workouts are also effective if you don't own weights.
Modify how you need. Most fitness instructors do a great job of showing options for different levels.
Have fun! No one is watching. The emotional and mental health benefits of exercise are just as important as the physical ones.
36. learn a new skill
Check out free online tutorials for knitting, learning a foreign language, simple home repairs, or any new skill you have been wanting to learn.
37. Gardening
Dig in the dirt and revive your flower beds, vegetable garden, or herb garden.
38. Get back to a hobby you enjoy
Evaluate how you are spending your time. Is there something you used to enjoy that you no longer take the time for? Today's the day to start again.
39. Read
Reading is a hobby that I have recently thrown myself back into. I have always enjoyed it, but found that I was not making the time for it.
Tip: I have started putting books I want to read on hold at the library so that I always have another book that is available for me. This keeps my reading habit going and this approach is free!
40. Homemade spa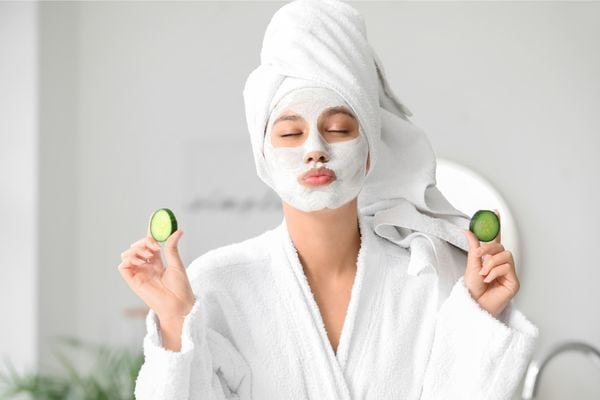 Mix up a facial mask from items you have around your house, plop cucumbers on your eyes, get in your robe, and relax.
41. Make a version of your favorite take-out meal at home
I am a lover of all Mexican food (and margaritas). So, my family has Taco Tuesday every week. This curbs my craving so that I am not as tempted to eat out.
Make a version of your favorite take-out food for less at home and schedule it into your regular meal rotation. It feels like a treat!
42. Train for a race
Registering for a race is not always a cheap thing when you are broke. Instead, set your own race date, look up a training program, and start training.
Make sure you tell someone about your plans (or do it with them) to hold you accountable!
43. Do a puzzle
Puzzles help keep our memory sharp, fight against cognitive decline, and improve our visual-spatial reasoning.
My great-aunt most always had a puzzle going and she lived to 101 with excellent cognitive health.
44. Play trivia
Trivia is not only fun and free, but it can actually be healthy for us. It releases dopamine, lowers our stress hormones, and exercises our brain. (source)
45. Play Online Games
Have you tried Wordle yet? Search for other free online games that you will enjoy.
Things to do with your spouse when you are bored and broke
Connecting with your partner doesn't take a lot of money. Most of the following activities are free to do together.
46. Create a couples vision board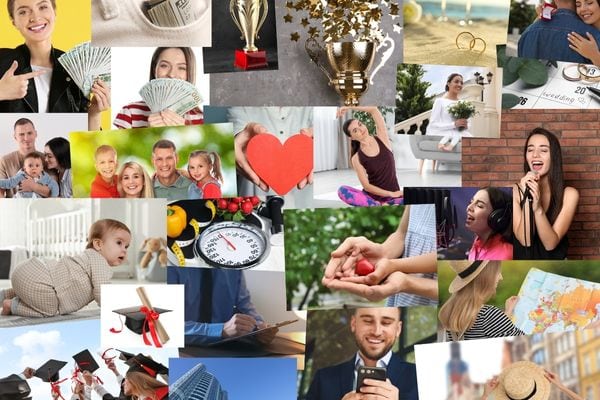 Get to know your partner better, build healthier communication, and set new goals by creating a vision board for couples.
Deciding on your priorities and goals for the future will further strengthen your bond together. And you most likely already have the supplies you need.
47. Take a drive
When I was young, my parents would often take the long way home. I didn't appreciate it of course, but they seemed to enjoy looking at the different sights and catching up with one another.
Now that I'm also a parent, I understand the allure of taking the long way home or of just simply taking a drive together.
*Watch out for rising gas prices and plan your route so you don't end up driving farther than you intended.
48. Plan a date night at home
Put the kids to bed and have a romantic dinner or watch a movie together. Intentionally plan to spend time together.
49. Go to an open house
When we were first married, we would often go to open houses on Sunday afternoons. It was a fun way to spend time together, it's free, and it helped us decide what we liked and didn't like before we were ready to buy a new home.
50. Watch a sunset
Find a good spot in your area to see a sunset. It's romantic and free!
51. ride a Free scooter
If you have seen electric scooters around your city, hop on and explore! (Be safe and go slow if it's your first time.)
52. Go for a hike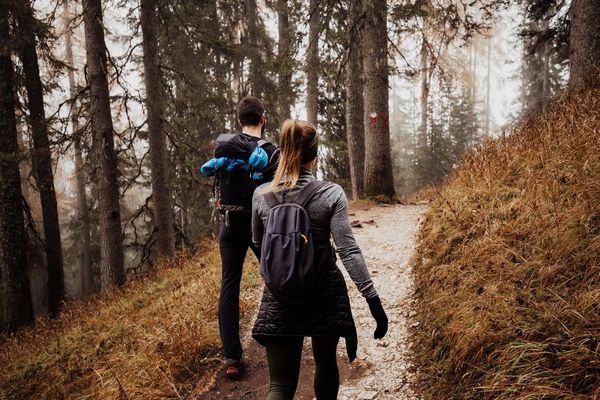 Research hiking trails in your area and plan to go for a hike. This has become one of my favorite ways to spend time with my husband. And it's free!
We use the AllTrails App to help discover trails close by, see reviews from other hikers, and stay on course while we are hiking.
53. Find a free outdoor concert
Or visit a bar to listen to a band. Go on a full stomach and limit your drink order if you want to stay on track with your budget.
54. Would you rather questions
Spend time asking would you rather questions for couples as a perfect (and free) way to get to know your partner better!
55. Bucket list
Make a bucket list with your significant other. This can include a list of anything you have not done together but would like to do.
56. Star gaze
Check out the night sky together. Download SkyView Lite to identify constellations, stars, and satellites.
57. Netflix and Chill
This is without a doubt an easy and cheap way to spend the evening together if you can decide on the same show to watch.
58. Be Intimate
Your partner will be on board with this free idea!
59. Break out an old gaming device
Old gaming devices can be a lot of fun! When my husband got out his old guitar hero, we had a blast playing it for several hours.
60. Give one another massages
This is significantly more cost efficient than going to a spa. Break out the massage oils and take turns.
61. Plan a date using only gift cards (things to do when broke)
We have a drawer dedicated to gift cards and coupons. Plan a date night using only the gifts cards or coupons you have to make it a free or very budget-friendly date.
Check out the rewards you have on your credit card. If you can, redeem them for gift cards that you know you will use. This is a perfect way to have a free date night or to cover other expenses.
places to go on a budget (fun things to do cheap)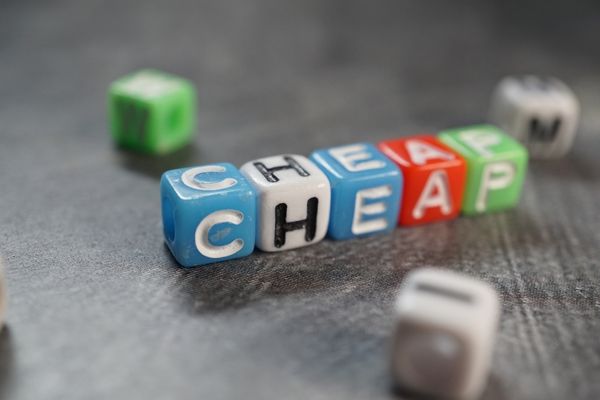 62. Visit a museum or a zoo
Most museums or zoos have free days or discounted days. Plan ahead to find those times.
*Check your local library to see if they have passes you can check out to visit local museums and zoos for free.
63. Explore a part of the city you live in on foot
Or try out free public transportation to explore a new area of town.
64. Browse a farmer's market
On nice days, there's nothing better to do than browse a local farmer's market. There's often musical entertainment and many vendors give out free samples to try too.
*Leave your wallet at home so you aren't tempted to spend money.
65. Drive-in Movie
Check out the prices of your local drive-in movie theatre and go when they offer discounts.
The upside to this experience when broke:
You can bring all of your own food and drinks to avoid paying for pricey snacks.
They tend to play older movies, so tickets can be cheaper.
Kids under 11 are free at our local drive-in which makes it much more economical than the regular movie theatre for our family.
66. visit an Arboretum
While our local arboretum typically has a small fee, they offer one free day each week. This is a great place to take a picnic and go for a hike. Stop by the visitor's center to see what your local arboretum has to offer.
Our arboretum also has a great place to sit and birdwatch as well as a model train display for kids.
67. Local lakes
Visit a local lake and go for a swim and play on the beach. Bring your own canoe or paddleboard or rent one for a small fee if you have the option.
68. Frisbee Golf
Many local parks have free frisbee golf courses. All you need is a frisbee to enjoy an afternoon of playing this game.
69. Explore a town nearby
You may not have to travel far to explore something new. Check out the surrounding towns in your area.
Related: How To Travel With Family On A Budget
70. Attend school plays, musicals, or concerts
There may be a small cost for admission, but it supports your community without breaking the bank.
71. Visit extended family
Whether they live close by or far away, visiting extended family can be an enjoyable and low-cost way to spend an afternoon or a weekend.
My extended family lives on a farm and it's a perfect place to go to enjoy spending time with them.
72. go to the beach
If you are lucky enough to live close to a public beach, it's free to spend the day there! Pack plenty of food, drinks, and sunscreen so that you avoid any unnecessary costs on your beach day.
fun family things to do when broke (and on a budget)
The following free and cheap activities are great for a family or anyone looking for something fun to do with free time.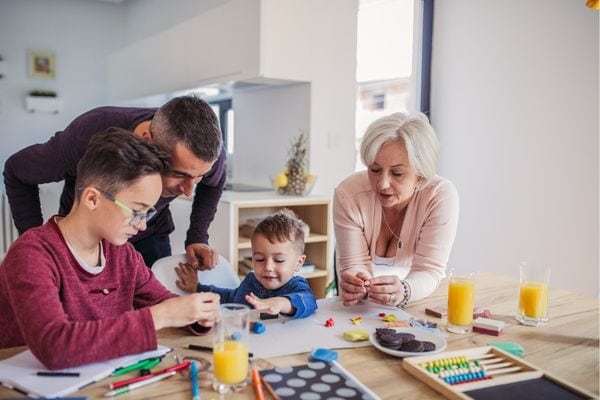 73. Questions
My kids love thinking creatively with this fun What If questions game for kids and family.
74. Riddles
Question: I lose my head in the morning, but get it back at night. What am I?
Answer: a pillow
These entertaining riddles will have everyone using their critical thinking skills. This is a great and free way to pass the time.
75. Art projects
Challenge your family to make a creation out of the art supplies you already have in your house.
76. Look at old photos and memorabilia
I have a cedar chest in our basement that holds old scrapbooks, photos, and other memorabilia from when I was younger. Our kids love looking through these things as I tell them stories from my childhood. They also enjoy looking through the container of comic books my husband has saved.
So, walk down memory lane with them. And take a picture of their faces when they see your first cell phone!
77. read a book together that you loved as a child
Much like looking through your old memorabilia, your kids will enjoy reading something that was special to you when you were their age.
According to Scholastic, 83% of kids ages 6-17 say being read to is something they either love or like a lot.
78. Build a fort
If you have pillows and blankets, you have what you need to make an epic living room fort with your kids. Let your kids camp out in it for a night to make it extra fun.
79. Go to a local coffee shop and play a game
Take games to play and enjoy connecting with your family. Our favorite game to play right now is UNO, but you can play any card or board game you have. While you may need to splurge on a treat to share, this is a great way to spend an afternoon.
My kids love the smoothies at our local coffee shop, but they are pricey and sugary. Buy one and ask for an extra cup so everyone can share.
80. Have a Picnic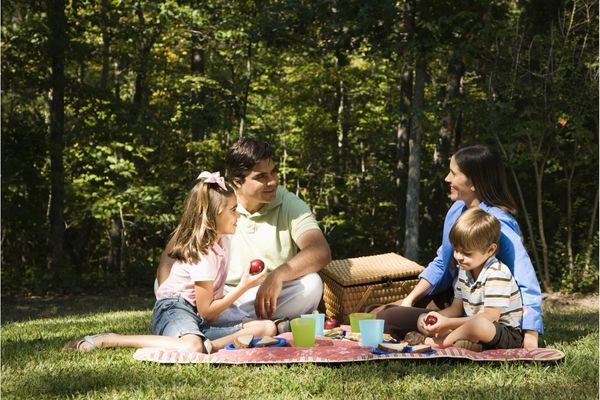 Picnics are great whenever the weather is great. Take it to a park or even your backyard. If the weather is cold, have a picnic in your living room. Eating in any different place is fun for kids!
81. movie night
Movie night is always a win. Toss homemade pizza into the oven or pop popcorn and relish a night in with your family.
82. Kids trivia questions
Ask kids trivia questions on your next family game night or on a rainy day.
83. Check out your church or synagogue
Your place of worship will have many opportunities to participate in together that are free and family-friendly.
84. Visit the Library
The local library is a hotspot for free activities for kids and families. They offer story times, summer programs, play areas, kid-friendly computers, movies, and books.
Our library has extra programs geared toward kids all year long and a makers space where kids can schedule a time to print a free 3D object.
85. Bake
Go shopping in your own pantry and figure out what you can bake together.
We love this 5-ingredient muffin recipe. Or throw together a frugal chex-mix with whatever cereal and snack foods you have leftover in your pantry.
86. Brain breaks
Search for a variety of brain breaks on YouTube to get everyone moving. My kids love Minions: The Floor is Lava Brain Break.
87. Learn a new game together
I opened a drawer yesterday and found a brand new game one of the kids had gotten for his birthday that we haven't even played yet.
*Learn how to play chess or another game that will take extra time to learn.
88. Paper crafts
All you need for these crafts is paper and scissors!
Airplanes
Paper chain snake and more paper craft ideas here!
89. Directed drawing
This is another easy thing my kids are loving right now. Find any directed drawing online and they will show you step-by-step how to draw whatever your want. I was even successful with this!
90. Toss a ball When You Are Broke (Or Just For Fun)
Remember that Friends episode where they played catch for the entire episode until Phoebe set the ball down?
Make it a competition to see how long you can toss around a ball with your family without dropping the ball.
91. Walk the dog or learn how to take care of a pet
If you already have a pet, teach your kids how to better take care of it.
If your kids are wanting a pet, learn about how to take care of it together and make a long-term plan for getting the pet when your budget is on track.
92. Water play
Backyard water play on a hot day is fun and refreshing. Get out the sprinkler and any water squirters or toys you have to add to the fun. Invite friends over and let the play begin.
93. Dance party
Turn the music up and have a family dance party.
94. Parks
Check out all the parks in your area. During the summertime, we try to visit as many parks as we can on nice days. Pack a picnic and a blanket and spend several hours playing and relaxing.
95. Shoot hoops at the school playground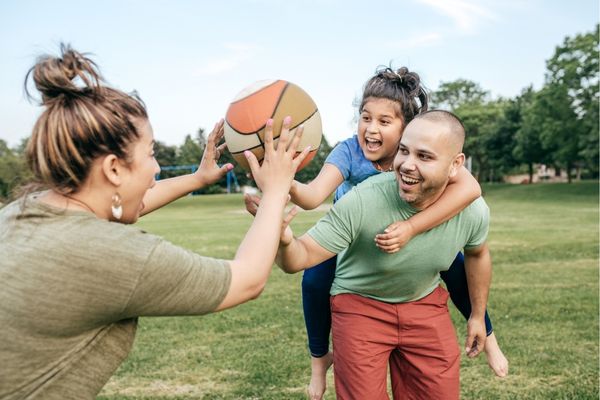 When school is not in session on the weekends and during summer, the local school playground is a good place to burn off energy. Plus, they may have different things to offer. Most parks don't have like basketball hoops and a place to play four square.
96. Driveway movie with friends
Borrow a projector and set up a movie in the driveway. You can use your garage as the screen. Invite neighbors and friends over and have them bring chairs and their own movie snacks.
97. Visit outdoorsy stores
Many big stores that sell a lot of outdoor and camping equipment have fun displays for kids to look at like aquariums and wildlife scenes. It's worth checking out on an extra hot or cold day when you want to be inside but also get out of the house.
*If you leave your wallet at home, you can make it clear to your kids that you can't buy anything while you are there.
98. Rock skipping in a creek
Rock skipping in the creek is by far the free thing my kids want to do the most. If you have fishing supplies available, take the fishing pole with you. Even just a fishing net and a bucket could lead to hours of play.
One spring, we started visiting a spot in a creek on a trail behind our house almost daily because we found tadpole eggs and wanted to see them hatch.
99. Geocaching
Try out this GPS treasure hunt. You find a geocache in your area on the online map, and use it to find the coordinates to find the treasure. Find out more here.
100. The Highlights Book of Things to Do: Discover, Explore, Create, and Do Great Things
We stumbled upon this book in the library last winter and it was so awesome! It had tons of creative things to do at home and we didn't have to buy anything for the things we did.
101. Tell Jokes
Find family-friendly jokes online or check out a book with jokes from the library to make everyone in the family crack a smile.
102. Community Center
Check out the schedule at your local community center. They often offer free programs for kids and families-especially around holidays and in the summertime.
103. Celebrate with a party at home
If you have a birthday coming up, think of a way to celebrate at home in lieu of an expensive party that fits your child's (or your) interests.
Water balloons and water play
Board games
Lego building challenge
Make your own pizzas
Create your own spa
Set up a baseball or soccer game in your backyard
Nerf gun party
104. Kick a ball at the park
Have a friendly family game of soccer at the park. Invite friends to make it even more fun.
105. Make bird feeders
Make these inexpensive bird feeders to hang from your trees. If you don't have something you need, you can find it at the local dollar store. Then see if you can spot some birds while they enjoy a treat.
106. make an obstacle course
Last fall we went to a local event for a trunk or treat. They had set up a basic obstacle course with things for kids to climb on, over, and through. There were a ton of other things to do at this event, but all the kids wanted to do the obstacle course on repeat.
You could easily duplicate this in your backyard with things you own. Get creative and see what you can set up with what you already have.
107. Find restaurants where kids eat free
If you want to plan a dinner out, find places where kids eat free for a budget-friendly meal. Ask other moms for recommendations, search online, or call your favorite restaurants to see what they have to offer.
108. Go camping
Camping can be a relatively cheap getaway for a family. Try borrowing any equipment you don't have but need.
109. Swap games and puzzles
Have you ever noticed how well your kids play with other kid's toys?
Do a toy swap with another family for games, puzzles, and books that you don't have. Or ask a friend that has kids a little older than yours if they have any toys they are ready to donate.
110. Minute to win it games
Minute to Win it Games are fun for adults and kids alike! Use objects you have around the house to make and play these inexpensive and hilarious games.
111. Go on a scavenger hunt
Take a nature scavenger hunt. It gets everyone outside and moving and it's totally free.
productive things to do without spending money (or for cheap)
112. Set sMART goals
What are your financial goals for the future? Start where you are and make a plan to improve your finances. Set SMART financial goals to help you get to the financial place you want to be.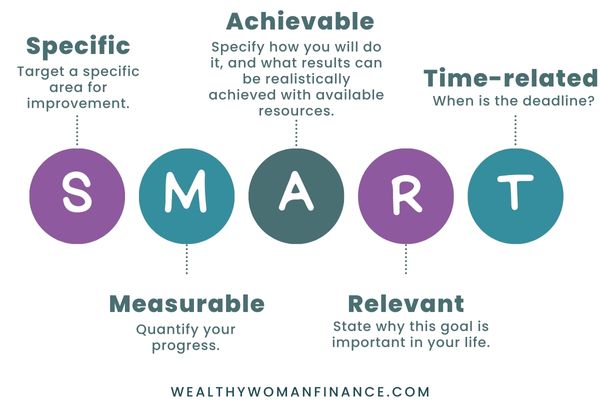 113. learn more about personal finance
Read these tips for financial wellness to learn how to make better financial decisions and money habits that help you in the future.
Find out where your money is going and make a budget. Figure out your income versus expenses and trim down your expenses.
114. Complete Easy house projects within your skill set
Tackle easy home projects within your skill set. I have surprised myself with what I can do with a little research and materials I already have around the house.
115. Declutter and sell
Use this free decluttering checklist to declutter your home and make it more enjoyable to live in again.
Decluttering improves our mental health and you save money when you know what you have. Plus, you can sell items you aren't using for extra cash.
116. Clean the garage
It's productive, free, and you will figure out what you already have for any home projects coming up soon.
117. Have a garage sale
After you have decluttered and cleaned out your garage, you are ready for a garage sale. Put it all out, and then donate whatever you have left over that you don't think you can sell elsewhere.
118. Refresh a room of your home
Move around existing furniture or hang different family pictures on the wall. Take out decorations you have in storage that you are ready to use again in a new way.
119. Watch something educational
There are so many good documentaries to choose from. Enjoy learning about something new while you are watching TV.
120. Read something inspiring When You Are Broke
Pick an inspirational book to read from the library.
121. Cancel unwanted subscriptions
Take time to go through your subscriptions and cancel anything you are not using that is costing you money.
122. turn your hobby into a money source
A couple of years ago, I decided to turn my love of attending group exercise classes into a side money source by becoming a group fitness instructor. This did take some money upfront to get certified, but it has certainly paid off over the years.
<<Read 50 Ways to Make $500 Fast now.>>
123. Meal plan
Use your time to plan a month's worth of meals for your family. Look through your pantry and freezer to make sure you use up items that will expire soon or need eaten first.
Plan your meals around what you have and then add in cost-effective meals. Don't forget to figure in leftovers!
124. Check your credit card rewards
Does your credit card offer rewards? Check and see what you can redeem or use to pay down your credit card debt.
125. journal
Create a new habit. Journaling can help you clarify your ideas, express emotions, and feel more grateful.
126. meditate
New to meditating? The benefits are numerous and you can find guided meditations that help you get started.
127. Learn how to compost
Composting is a process that turns organic materials into nutrient-rich soil through decomposition. You can compost at home by using food scraps, dry leaves, and other materials from your yard. Look here for more guidance on starting a compost at home.
128. Volunteer opportunities
Find local volunteer opportunities that you are interested in and give back to your community.
129. Positive Affirmations
Write down a few positive affirmations for success and read them aloud daily.
130. Ted talks
Listen to an expert on a topic with a short, but powerful Ted Talk.
131. Restore an old piece of furniture
Right now I have two pieces of old furniture sitting in my garage. My goal is to take the time to refinish them.
To Consider With things to do when you're broke
That was a long list! Hopefully you found creative ways to stay entertained when you are broke or on a budget.
Use the productive ideas presented to improve your finances and prepare for future financial success.
Let me know what other ideas you have for what to do when you are broke in the comments!
More wealthy woman finance posts you'll love…
things to do with no money (bored and broke)