Free 52 Week Savings Challenge Printable To Save More In 2023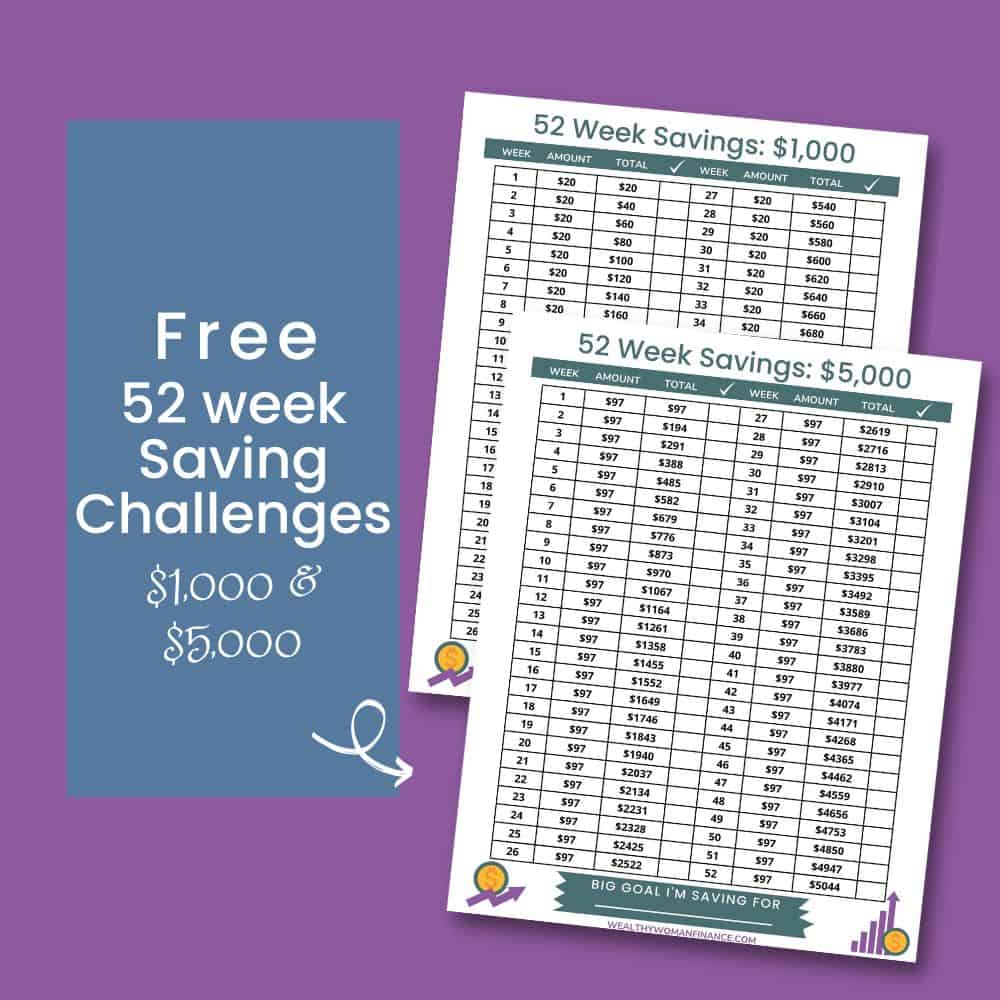 Best Savings Challenge Template: $1,000, $5,000 +
In today's world, it's harder than ever to save money. Sneaky subscriptions and monthly charges come at us from all directions. Easy "money" is the norm, and not the exception.
But building savings habits is crucial to the bright future we hope to achieve. In fact, without them, our big beautiful goals will always be out of reach. That's why, today we have a fun 52 week savings challenge printable for you!
What is a 52 week savings challenge?
A 52 week saving challenge is a year-long challenge to save a specific amount of money each week. You can do many variations of this challenge, and make it as hard or difficult as you'd like.
But it's helpful for creating savings habits that last you much longer than the year you do it. And this is where the real power of the challenge lies.
Plus…
a year is long enough to give yourself a big savings boost.
you're building precious momentum for a solid future.
the challenge gives you enough flexibility to both plan ahead and improvise.
What You can use the challenge money for
Just think of all the great things you can use your challenge money for! Whether, you're saving $1,000, or going for the big $20,000.
Here are a few ideas for your cash stash:
Building a 6-month emergency fund
Bumping up your retirement or college savings
Paying cash for a car (or a large downpayment) into a sinking fund
Starting a business
Investing in your quality of life (with a procedure like Lasik or a health membership, etc.)
*Find a good list of things to save up for >>
How do you do the 52 week savings challenge?
Now, you don't have to do the steps below, but your chances of success will skyrocket if you do!
1. Decide on how much you want to save and print the free printable below (Choose from $1,000 or $5,000)
2. Write your goal on the printable. Remembering what you're saving for is a big motivator.
3. Open a new savings account that is labeled "Savings Challenge." (Or whatever you're saving for). Make this account separate from your usual money flow, and get in the mindset that you will not take money out of it.
4. Set up automatic transfers to this new account. This is accountability at its finest! You are committing, and making your dreams HAPPEN.
5. Checkmark your printable each week and celebrate! You're taking consistent action. And that's how dreams are realized.
Variable Savings Vs. Fixed Savings
There are many 52 week savings challenges that use a variety of savings amounts. While I love the idea, you're less likely to be successful over this longer period of time.
With a savings rate that's always changing, you're not able to do the automated transfer (#4 above). Which is a HUGE FACTOR in success over the year.
That's why these printables are fixed. You save the same amount every week. Now, what if you get ahead one week and short another?! That's fine! Just make sure you're saving the right amount monthly to keep up with your automatic transfers.
10 Ways to Find More Cash
Now, if you start the challenge and you find yourself struggling. Here are 10 quick ways to find cash fast. Pick one or two and you'll be rocking it!
1. Bag your lunch. And your kids' lunches
This adds up! Even just a few more times a week can be all you need to hit your goal.
2. Grocery Shop at a different Store
A grocery bill at Whole Foods is going to look a lot different than one at Aldis. It's just the truth about the overall cost. If you love your pricier store, that's fine too! Instead, consider shopping towards their weekly sales or reward programs.
3. Sell your stuff
Most of us have plenty of items we're not using. Declutter your house (ah, doesn't that feel good!) and make your savings goal at the same time.
4. Audit Your Bills
A quick phone call to the internet company can lower your bill EVERY month. And perhaps you're spending a lot more on energy usage or insurance than you thought. Taking the time to look through your bills can save you BIG TIME if you catch something.
5. Start a side hustle
Babysit, do online surveys, walk dogs, or flip mowers (my hubby's preferred way to make quick cash).
Write a list of the side hustles that interest you. Is there one or two you could try?
6. Use the 24 Hour Rule
To help with impulse shopping, set a rule that you can buy whatever you want after you've thought about it for 24 hours. This simple trick is all you need to find out if you really want something or if you're getting caught up in the moment.
7. Cut back on your vices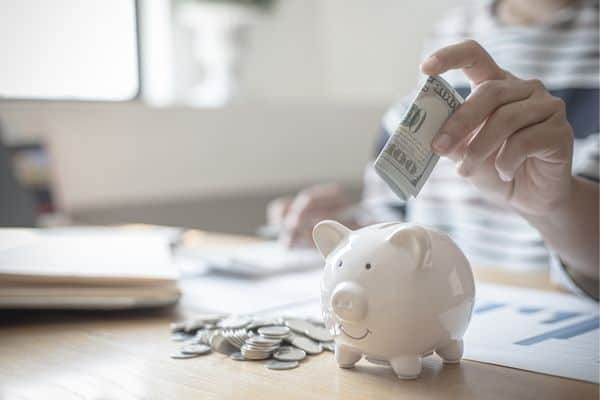 Does that alcohol bill add up? Or perhaps it's cigarettes. Or chocolate. We all have a few things we turn to when we're stressed. Work on creating healthier coping strategies and you'll save money on the things you wish you weren't buying so much of anyways.
*Treat yourself on a budget healthier >>
8. Get Rid of a Streaming Subscription
Do you really need Netflix, Hulu, HBO, AND Disney? Chances are there's one or two you don't watch much. Or what if you got rid of one in the summer months while you're out and about? Bring it back when the temperatures drop in the fall.
9. Eat out less
You'll save money AND be healthier. Win-win! (Focus on meal planning and try a few freezer meals to help make this successful).
10. Entertain Smarter
Do you have parties that break the bank? Plan ahead for your next get-together by making it a potluck or serving cheaper food (baked potato or taco bar instead of salmon).
*See more creative ways to save money and a 30 day savings challenge printable >>
What if you have to modify?
There's no shame in this game. In the end, whatever you save is going to be MORE than what you would have.
So what if you have a bad week or month? Get back in there! We all lose our way sometimes. The difference is what you do about it after.
Related: 26 week money challenge (a shorter variation)
Get the Free Savings Challenge Printable: $1,000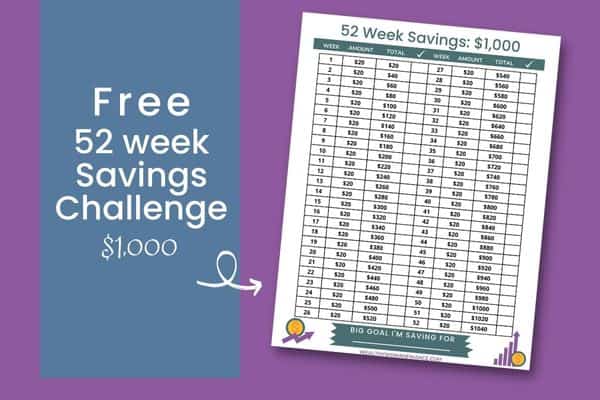 If you save $20 dollars a week for 52 weeks you'll end up with $1040. This is a little above $1,000 for two reasons. First, $20 is a nice round number that makes your math and transfers easy. Second, If you slip up or come short a few weeks you're covered!
Get the Free Money Challenge Pdf: $5,000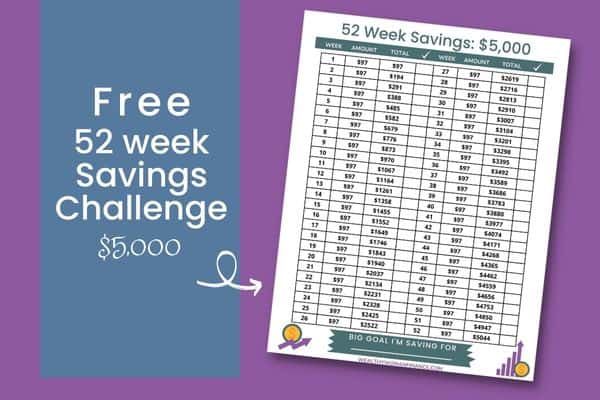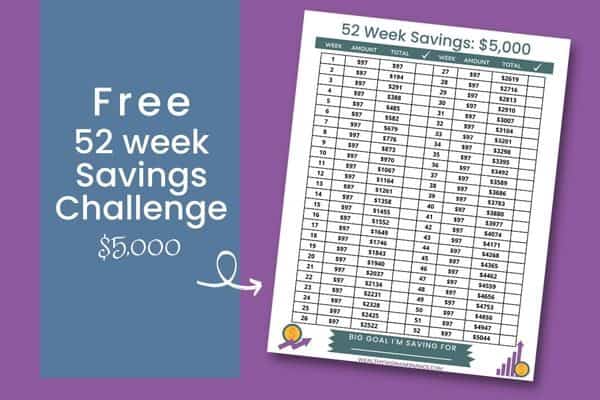 Save $97 a week for 52 weeks and you'll end up with $5,044. Again, this gives you wiggle room of $44 in case you come up short one week in the challenge. If you'd like to make this an even $100, grab the blank template below to modify.
*You can also grab the free 100 envelope challenge printable here for another option*
What if you want to save more or less?
Save $500, $10,000 or go for the big kahuna at $20,000. The world is your oyster and YOU control your financial future!
****Grab access below to a blank template you can customize to your own savings goal****
To Consider With This Savings Challenge Printable
That's it! Now, let's get moving! Do the challenge with a friend or family member and make it a fun event together. Celebrate your highs, lows, and when you meet your savings goal.
What are you using your 52 week savings challenge printable template for? Leave a comment below and let me know!
*Need help getting into your best money mindset? Check out these daily affirmations for wealth & success or best debt free quotes.
Free Printables Pdf Money Savings Challenge