65 Ways to Treat Yourself on a Budget (Pamper & Renew!)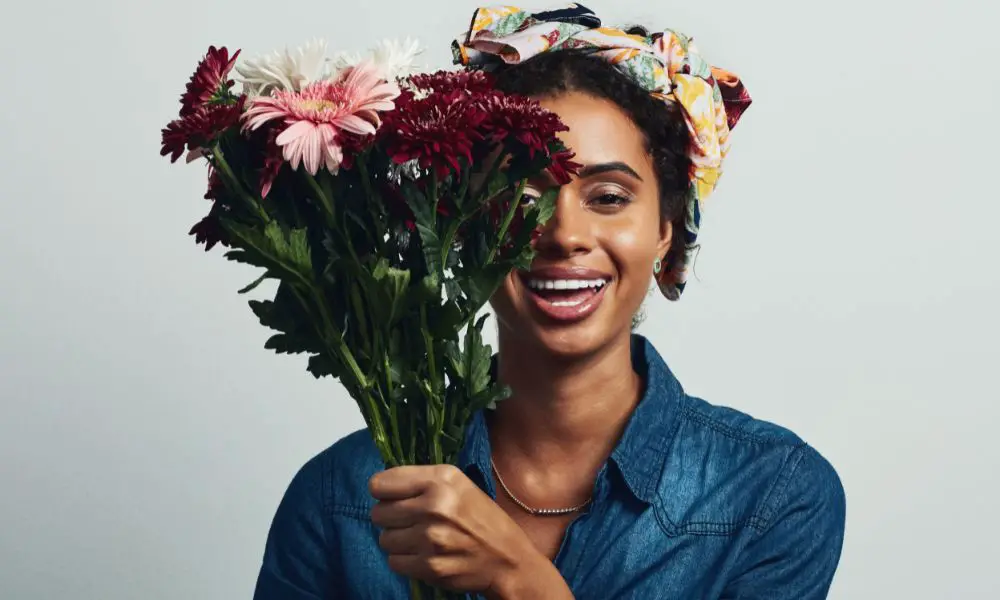 Why is it important to treat yourself?
These days, it's easy to get lost in the daily grind. There's so much to do! But when was the last time you laughed? Or paused to enjoy one of life's simple pleasures?
This post is all about how to treat yourself on a budget. Because when you're in the middle of getting your to-do list done, it's important to remember how beautiful life is too.
This post contains affiliate links, and we may earn a commission at no cost to you. See our disclaimer for more.
And you don't have to spend a lot of money to do it! Plus, these ideas go way beyond the standard "buy yourself a coffee" advice.
But first….
Is it healthy to treat yourself?
Yes! As long as you're doing it in ways that don't sabotage your long-term goals. The ideas below are geared towards a healthy and happy lifestyle and well as being easy on your wallet.
Free Ways to Treat Yourself
First, these ideas don't have to cost a thing!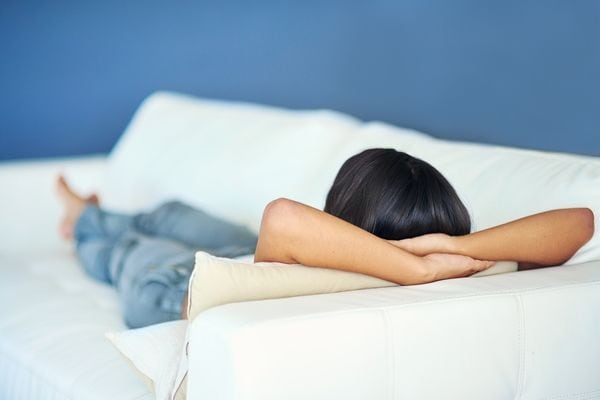 1. Take a nap
When was the last time you let yourself rest? Or lay down on your bed for a thirty-minute reset?
2. Watch your favorite childhood movie
For most of us, there are one or two movies that lift our spirits, make us laugh, or bring us back to the "good old days."
3. Allow Yourself to dream big
On down days, it's important to feel hopeful for the future. Take the afternoon to make a vision board, make a bucket list, or set goals.
To help, check out these:
*Bonus: Set your screensavers to an inspiring photo and positive success affirmations as reminders.
4. Listen to your favorite podcast
Podcasts are free and can be incredibly insightful.
5. Visit a local bookstore
Spend a few hours checking out the latest magazines and books. Or spend an entire day hanging out at the library, reading whatever you want.
6. Have a pajama day
Allow yourself to stay in your jammies all day. That's right – you are comfy and cozy!
7. Re-read your favorite book
Do you have a book that energizes you? Block out an hour or two, and treat yourself on a budget by re-reading your favorite parts.
8. Pay yourself 3 compliments
A little self-love can make a big impact on your mental health!
9. Take the night off
For one night, let someone else cook dinner and clean up. No guilt! Your body and mind need a rest now and then.
10. Take Yourself On A Healthy Picnic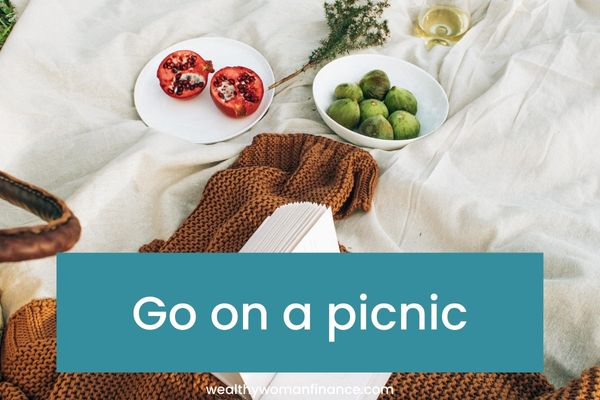 Stay for the sunset. Or just spread out a blanket on your lawn.
11. Look up stand-up comedy on youtube
Spend an hour laughing! After, you'll feel amazingly lighter.
12. Spend extra time working on a hobby you love
Do you have a hobby that makes you feel alive and creative? Treat yourself to extra time exploring this activity.
13. Watch an inspiring TED Talk
Ted Talks are beautifully inspiring, educational, and entertaining videos. Many of them are short too. When you're feeling low, this is the perfect free pick-me-up.
14. Get all dolled up
Often, our mood reflects how we look. When you put effort into looking snazzy, your confidence rises with your style. So, enjoy feeling your best!
15. Find natural beauty
Many of us have natural wonders close by that we've never explored. This is such a shame considering what it can do for your life perspective, mood, and imagination. See what's around you (safely)!
trails
hills & mountains
caves
lakes
beaches (lakes or ocean)
botanical gardens
16. Spend a few hours going through past photos
I had a friend tell me that it brings her great joy to look at past photos of her kids. So, why not treat yourself to this free pleasure?
17. Take A Free Class
Many places offer free online classes. Or take a free library class that looks interesting. Either way, you'll come out with new knowledge that you can apply to your life – making it a treat for your brain.
18. Take A Hike Out In Nature
Fresh air, sunshine, and nature are good for the soul. So, indulge in Forest Bathing. This is a Japanese ritual where you walk around in the trees for long periods of time.
19. Lay In A Hammock For Hours
That's right, grab a book or take a nap while you're at it. You can do this in your backyard or a local park.
20. Treat Yourself To Technology Time
First, when we are burnt out, it's easy to escape into the depths of our devices. But for long lengths of time, this isn't good for you.
Instead, set a time limit. Treat yourself to 2 hours of computer games or 30 minutes of social media. When the alarm goes off, move on with your day.
21. Indulge in Active Dreaming
Take your highest vision and dreams one step further by activating your belief that something is possible.
Walk through your dream house.
Test drive your dream car.
Spend the afternoon researching one place you'd like to visit.
22. Do A Mind Dump
This is a treat I give myself whenever my anxiety is high. And it is exactly how it sounds. You spend 5 minutes dumping your brain of everything you are thinking about it.
Seriously, give it a try! After 5 minutes, you'll feel fifty pounds lighter.
23. Have A Fire Pit Night With Someone You Love
Fire is one of those natural elements that mesmerizes you. It returns you to what's elemental in life.
Stay after it gets dark and do some stargazing too!
24. Meet Someone for a lunch walk
Or engage in another way to move your body. The benefit of doing this with another person is that you are engaging in conversation that makes you feel good too.
Exercise + Connection = Double Treat For You
25. Sing karaoke
That's right, let it all go. Whether you're at a bar or in the privacy of your own home, music is known to lift your spirits. Dance it out while you're at it, and you'll feel the endorphin boost from exercise too.
Cheap Ways to Pamper Yourself As A Woman
Next, sometimes you want your affordable treat to feel luxurious. Or a little indulgent. In this section, we've got you covered!
26. Give yourself a manicure or pedicure
There's nothing like pretty toenails to lift your spirits.
27. Buy Something Small that makes you feel amazing
This will be different for everyone. It shouldn't cost much money, and it helps if it's something that's also useful. Here are a few ideas:
New underwear
Sunglasses
New cozy pajamas
28. Take yourself on a solo date
This can be inexpensive! Spend the afternoon at the park, sit at a coffee shop, or go to the mall to watch people.
29. Try A new bubble bath product
Sometimes all it takes is one item to make you feel like a million bucks. Purchase a bath salt or special soap for a luxurious bath experience. And if you're not into baths, find something that makes for a decadent skincare routine instead.
30. Get a massage From a Loved One
This is free, and feels oh so good!
31. Meditate
Treat yourself to the gift of meditation. (Which is a FREE activity)
Insight App also has a free timer that I use often for meditation. Or you can do a free trial with big Apps like Headspace or Calm to get you started on a routine.
32. do your own Face mask at home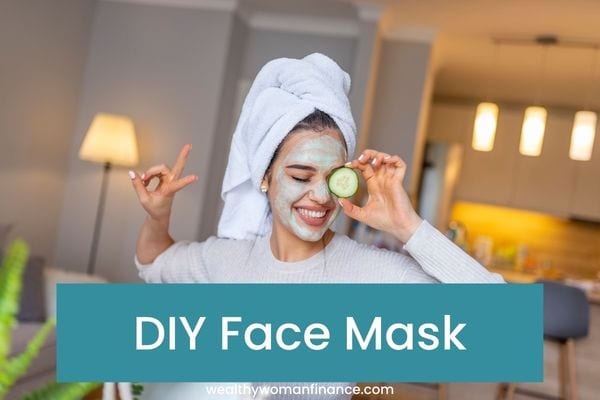 Face masks are around $3-5 at the store. Treat yourself on the cheap with a fun mask!
33. Sit in a massage chair for 5-10 minutes
It's free if you already have one. Or you can find these at malls.
34. Buy a new candle
Then, light candles around your home and eat on your best dinnerware.
35. Allow yourself to do an at-home self-care retreat.
Make yourself a little self-care kit beforehand. Then, spend the day pampering yourself. Here are few fun ways to spend your self-care day:
Take a detox bath
Journal
Read a fun book
Do a workout or go for a walk
36. Order a new herbal tea
I've been treating myself to an herbal tea at night, and my daughters have been getting in on the fun.
If you're not into tea, splurge on a nicer coffee cup or a fancier bag of coffee.
37. Purchase a Stress Relief Item
There are so many products on the market these days to help you relieve stress at the end of a long day. Here are three that I love.
an adult coloring book
A nice journal
An acupressure mat
38. Take a mental health day off of work
Do you have days off that you don't use? It's time to take one! And then do whatever you want with your day. It's ok to take time off to breathe.
39. Get a fresh haircut or color
I don't get haircuts often, but when I do my mood is instantly lifted. Perhaps it's time for you to get your hair done too!
40. Get yourself fresh flowers
Nature is always a treat for the senses.
41. Get fitted for a bra
This is free, and you'll forever know your correct bra size!
42. Grab the ladies for a night in
Getting together with others doesn't have to be expensive. Have everyone bring a snack to share and then enjoy the night connecting or relaxing with a movie.
43. Go to bed early
What a treat for your mind and body!
44. Purchase Something Small That Freshens Your Look
Buy a new lipstick color. Or an eyebrow pencil. Or another small thing that makes you feel like you've spruced up your entire look.
*Find more great things to do to indulge for free or cheap here >>
Inexpensive Ways to Treat Yourself At Home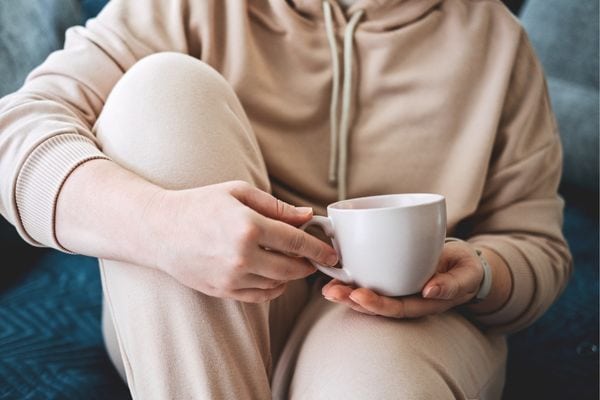 45. Splurge on something that makes healthy living easier
For example, quality meal prep containers are incredibly useful. Here are other small purchases that improve your quality of life.
A cookbook can help you cook healthier.
A water bottle can help you drink more.
A foam roller can help you with mobility and tension headaches.
46. Buy One Thing For Your Work Health
Treating myself to a stand for my laptop was an incredibly cheap investment. And I immediately had less neck and shoulder pain. Anything else that makes your work easier on your body is a great idea.
47. Purchase a New planner
There's something about a planner that helps you feel refreshed and renewed. It can also heighten your focus.
48. Spruce up your home
These can be things you need too! A few new bath towels or a pillow for your couch are small ways to make your space cozy, while being easy on your budget. Or pick out something beautiful to plant in your garden.
49. Perk up your workspace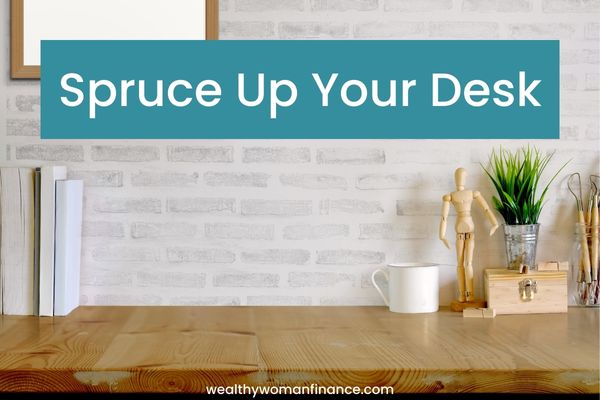 Buy a plant or candle for your desk.
50. Get Help
Ask friends or family to help with a task you need. Or give your child $5 to do extra chores around the house. This particular way to treat yourself can be a lifesaver when life is busy or you're running yourself ragged.
51. Purchase fun pens
They are cheap and practical! They also have a way of livening up a planner, calendar, or journal session.
52. Have a movie night
Choose a movie you've been wanting to see, and get lost in the movie for a while.
*See more at: Best Tips For Financial Wellness
More Budget-Friendly Ways to Treat Yourself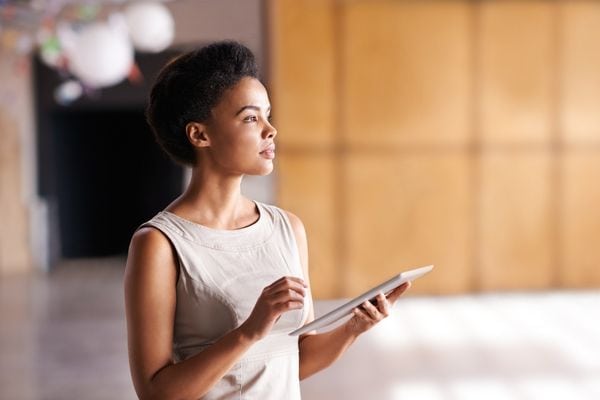 53. Splurge At the Farmer's Market
Indulge in a fresh veggie juice or an item under $5 while you peruse the goods.
54. Treat Yourself To a Babysitter
Then, take yourself on a cheap date. Even sitting by yourself (or with your partner) at the park can be much-needed time to reconnect or clear your head.
55. Go to a Pet Store
Spend a few hours snuggling with your furry friends there. Or if you already have pets, give them extra love.
56. Buy Something Special For A Hobby
Do you love painting? Photography? Or fishing? Grab something small to help make your hobby special, then enjoy the afternoon doing what you love.
57. Put $5 in a jar
Perhaps you are longing for a bigger way to treat yourself. No problem! Save up for a larger treat later by starting a stash.
58. Schedule a coffee date with a friend
Find a new activity you've never done (escape room, axe throwing, painting party, etc.) and then check Groupon or if there's another way to find a coupon.
59. Cash Out
Cash out your credit card rewards and spend It on something just for you. You won't have to spend any money this way!!!
60. Have a Weekend Staycation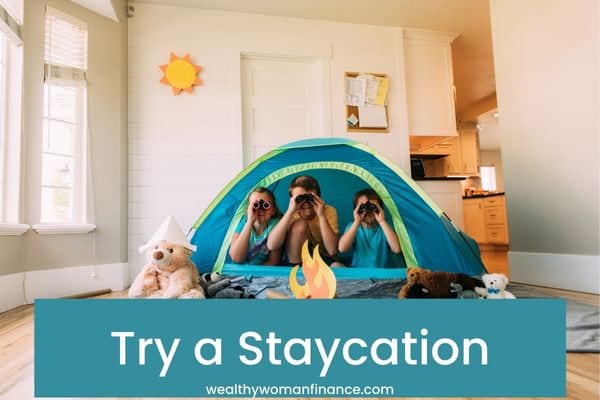 Explore the area you live in. You might be surprised by how much fun stuff there is to do without spending much money.
61. Check something off of your bucket list
Try something new! Or do that thing you've always wanted to do. There are many things on our bucket lists that don't cost much money.
62. Buy a book you've been wanting
Have you had your eye on a special book? Buy it and devour it in one afternoon.
63. Purchase A Fun Bookmark
Let it get you excited to read more!
64. Purchase music that motivates you
Music can be therapeutic, motivating, and energizing (sometimes all at once!). Treat yourself to a few new songs on your playlist.
65. Take a joyride in the car
Finally, this one just costs a tank of gas! Spend an hour driving by a gorgeous view of trees or water, and lose yourself in the scenic route.
How do I treat myself every day?
While you won't use all of these ideas, there should be something for everyone! You can also use these actions daily to fortify your mind, spirit, and body.
What are your favorite ways to pamper or treat yourself on a budget? Leave a comment and let me know!
More Great Posts From Wealthy Woman…