27 Best Money Mindset Books For You In 2023
We all want to knock out debt, build wealth, and achieve financial freedom. But sometimes, we sabotage our efforts before seeing true progress. Other times, we're not sure what the right path forward should look like.
Today, we're fixing this with a list of the best money mindset books. These great books will help you earn more, demolish the obstacles that hold you back, and build wealth at levels you never imagined.
This post contains affiliate links, and we may earn a commission at no cost to you. See our disclaimer for more.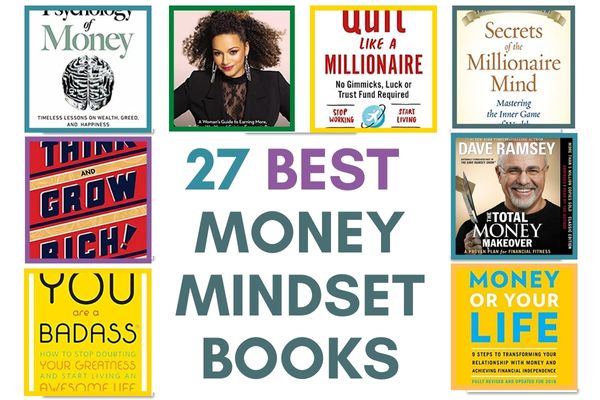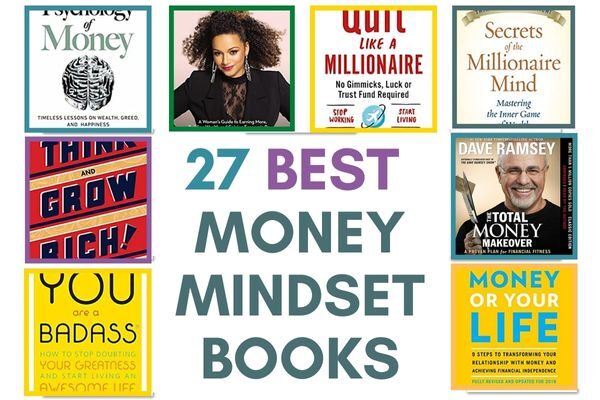 Best Money Mindset Books
To get right to the favorites, here are the top 5 all-time most popular books for a rock-solid money mindset.
1. The Psychology of Money: Timeless Lessons on Wealth, Greed, and Happiness
*My personal favorite & #1 Best seller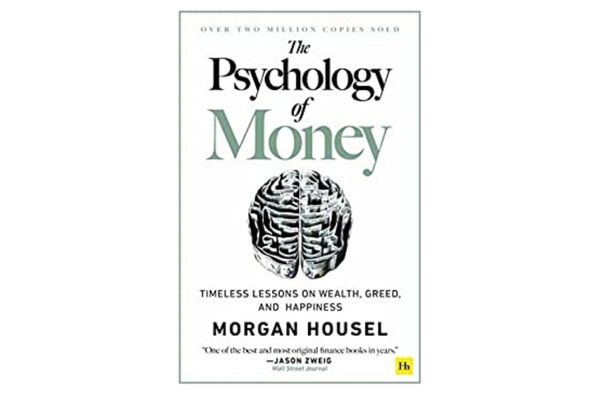 In the real world, people don't make financial decisions based on spreadsheets. Instead, what we do with money is based on beliefs, habits, and psychology. It's those conversations around the dinner table that matter.
This book is a refreshingly simple take on money. You'll learn that you can "win" with money even if you know surprisingly few complex formulas.
2. Think And Grow Rich
*Over 80 million copies sold
This book is a money mindset classic. Drawing on stories of other millionaires of his generation, Napolean Hill builds a framework for using your mind to find true and lasting success.
"First. Fix in your mind the exact amount of money you desire."
3. Rich Dad Poor Dad: What the Rich Teach Their Kids About Money That the Poor and Middle Class Do Not!
*International Best Seller (#17 in Amazon charts)
The lessons inside of Rich Dad Poor Dad remain as relevant as ever. Learn what separates rich thinking from poor thinking and use these philosophies to build your money mindset.
4. The Total Money Makeover: A Proven Plan for Financial Fitness
*Great for getting out of debt!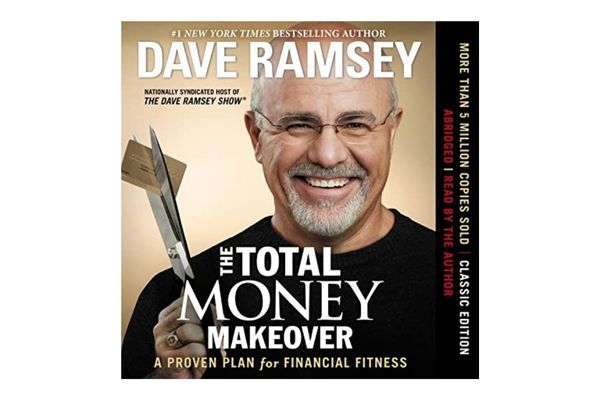 When it comes to money mindset, Dave Ramsey is an expert. And The Total Money Makeover is a powerful testimony to getting your mind and habits right in order to prosper.
5. I Will Teach You to Be Rich: No Guilt. No Excuses. No B.S. Just a 6-Week Program That Works
"Buy as many lattes as you want. Spend extravagantly on the things you love. Live your rich life instead of tracking every last expense with Ramit Sethi's simple, powerful, and effective six-week program for gaining control over your finances." – Amazon
Mindset Books About Money Management
Next, these books help you with specific plans and tips that make you a pro at money management.
6. Get Good with Money: Ten Simple Steps to Becoming Financially Whole
*New York Times, Wall Street Journal, & USA Today Bestseller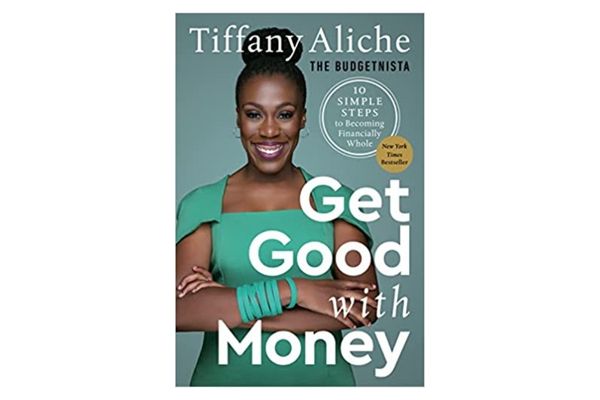 Get Good With Money has helped over 1 million women. It has a practical 10-step process using short term actions that lead to your long term goal success. Build wealth through the unique concept of financial wholeness.
*This book comes with a toolkit of resources too!
7. Secrets of the Millionaire Mind: Mastering the Inner Game of Wealth
*New York Times, Wall Street Journal, and USA Today Bestseller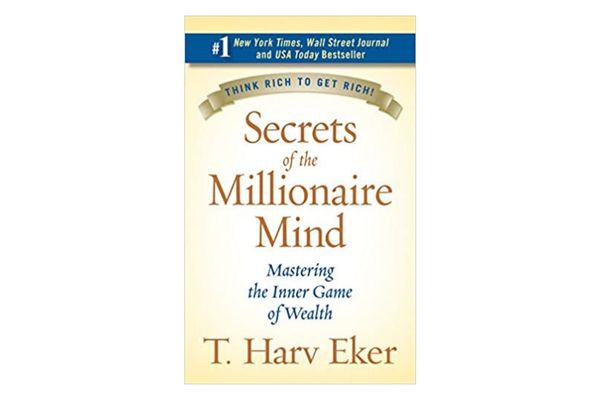 This book focuses on the missing link between wanting and achieving. What's the difference between someone who struggles with money and someone who finds money easy? It all has to do with the money blueprint you've built in your mind.
Read more in Secrets of the Millionaire Mind >>
8. Broke Millennial: Stop Scraping By and Get Your Financial Life Together
*Book 1 in a 4-part book series
Broke Millenial is perfect for 20-40-year-olds looking to get a better grip on their financial life. Pull yourself out of the ditch by learning how to influence your relationship with money, handle your student loans, and more.
9. Your Money or Your Life
"This is a wonderful book. It can really change your life." -Oprah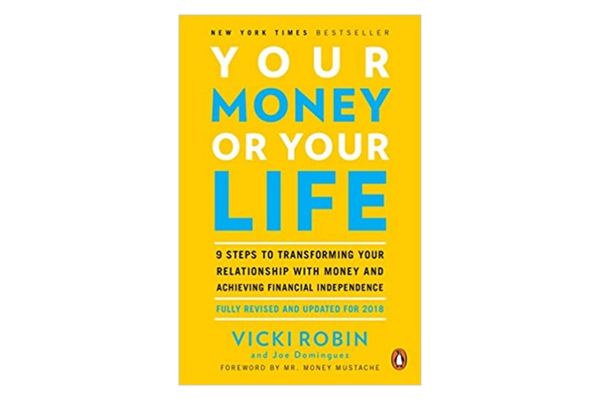 This is the go-to book for defining your relationship with money and your financial mindset. It offers a 9-step road map to live more intentionally, declutter, save more, and invest to make your money work for you.
See Your Money or Your Life here >>
10. The Latte Factor: Why You Don't Have to Be Rich to Live Rich
*Instant New York Times, USA Today, Wall Street Journal, and international bestseller
The Latte Factor is unique. In it, you follow the story of a young woman living in New York City. Through the people she meets, she learns the secrets to financial freedom.
In this book you learn that you are richer than you think. It's incredibly insightful as well as entertaining (And a fast read!)
11. The Richest Man in Babylon
Based on Babylonian parables, this book brings to life the best lessons of money mindset. It's a popular classic worth reading, whose lessons have the capability to change your life.
12. Quit Like a Millionaire: No Gimmicks, Luck, or Trust Fund Required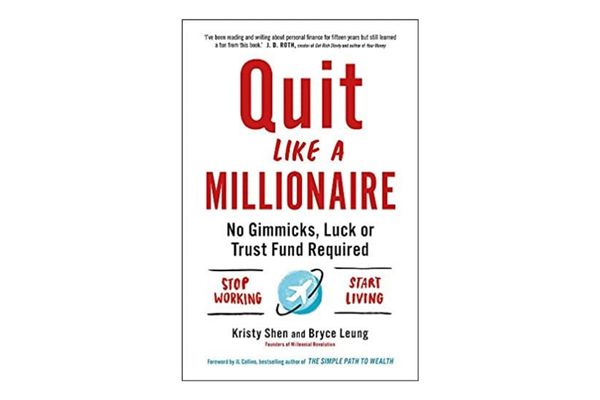 Kristy Shen retired at the age of 31 with a million dollars. And she did it without a massively lucky investment portfolio. If you've ever wondered how others can pull off retiring early, this is the money mindset book for you!
See Quit Like a Millionaire here >>
13. The Millionaire Next Door: The Surprising Secrets of America's Wealthy
To many of us, wealth isn't what it looks like. In fact, this book reveals that America's wealthiest live in an entirely different way than the average American. Learn how and what they do with their money that allows them to live on their own terms.
See The Millionaire Next Door >>
14. The Almanack of Naval Ravikant: A Guide to Wealth and Happiness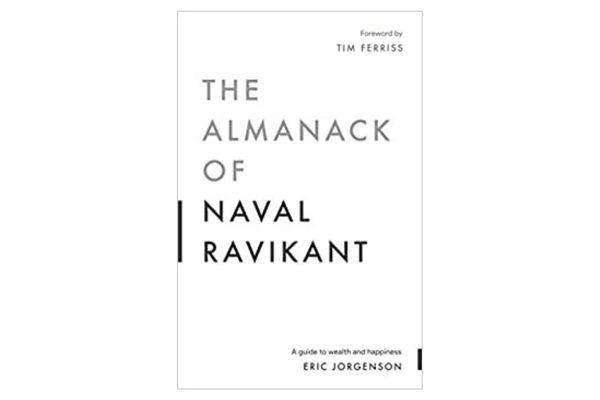 Building wealth and being happy are skills we learn. But how do we learn them?
The Almanack of Naval Ravikant is a collection of interviews and insights from the prolific entrepreneur, philosopher, and investor. Instead of another "how-to" book, this is a read full of mindset gems and philosophies.
Related: Rich Mindset Vs Poor Mindset Differences & Tricks
Millionaire Mindset Books on Money Making
Do you wish you earned more money? These money mindset books will help you overcome your obstacles.
15. You Are A Badass At Making Money
*New York Times Bestseller – More than 4 million copies sold
Beloved author Jen Sincero brings us a wonderful money mindset book. Identify your self-sabotaging behaviors, shift your energy, and begin building a life you love. It's time to make good money!
See You Are a Badass At Making Money >>
16. The Power of Broke: How Empty Pockets, a Tight Budget, and a Hunger for Success Can Become Your Greatest Competitive Advantage
Shark Tank Star and Fubu founder opens up about his road to success, and the money mindset that it took to get there.
And what's most interesting? His 6 billion dollar company might not have happened if he had started broke, with nothing but hope and drive to keep him going.
17. We Should All Be Millionaires
Only 10% of the world's millionaires are women. It's time for a change.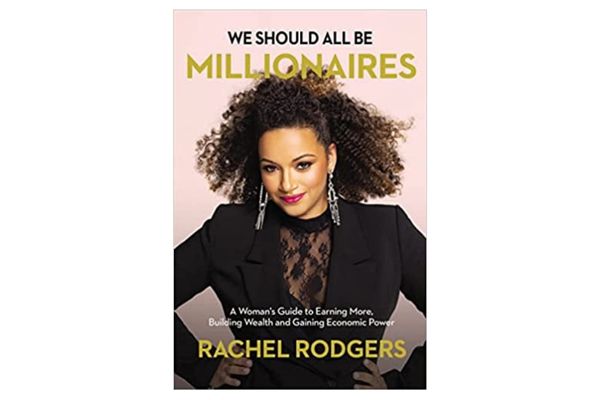 In We Should All Be Millionaires, Rachel Rodgers shares her journey as a mother and self-made millionaire and helps women see that wanting more money is not selfish or greedy – it's important for gender equality and building a life you love.
18. Traction: Get a Grip on Your Business
*A must-read for entrepreneurs and business leaders
I read this book a year ago and it transformed my business. I went from hoping to grow to building specific systems that make the money roll in naturally.
Traction explores 6 key components to running an effective business and has a step-by-step plan to master the art of running your company.
19. Profit First: Transform Your Business from a Cash-Eating Monster to a Money-Making Machine
#1 Best Seller in small businesses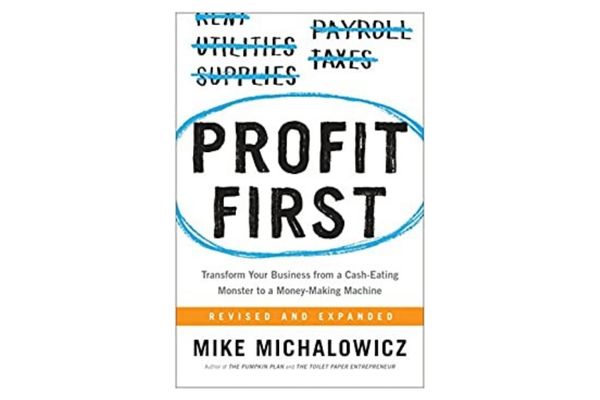 Author and serial entrepreneur Mike Michalowicz flips the traditional way of making money on its head. Instead of sales-expenses = profit, he advocates taking profits first and using only what remains for expenses.
If you are struggling to make your business work or wish you had a greater cash flow, this is an excellent road map for making more money.
20. Get Rich Lucky Bitch
*Money mindset comes from within!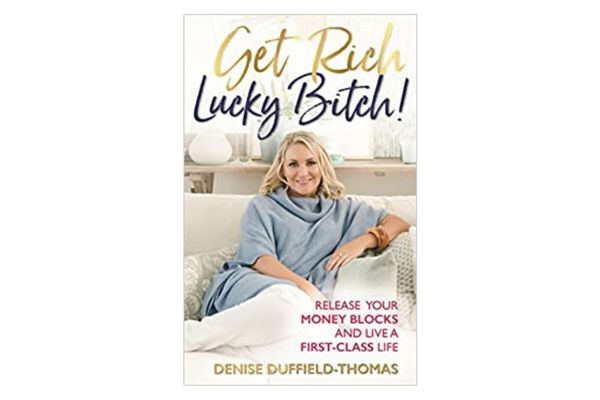 This book is about manifesting more money into your life. It's a fun read showing you that you don't have to settle for pennies. Clear your limiting beliefs, blocks, and fears through the practices in this book.
Motivational & Habit Money Mindset Books
Finally, this section has the best books to help you with habits and mindset in general.
21. Atomic Habits: An Easy & Proven Way to Build Good Habits & Break Bad Ones
*10 Million Copies Sold (#1 on the Amazon charts)
This book is excellent for building a money mindset, losing weight, reading more…anything! It deserves a spot in this list because it's one of the most universal, practical, and helpful books I've ever read.
Atomic Habits is a must-have for your permanent book collection.
22. Mindset: The New Psychology of Success
"It's not always the people who start out the smartest who end up the smartest." – Carol Dwek
"Through clever research studies and engaging writing, Dweck illuminates how our beliefs about our capabilities exert tremendous influence on how we learn and which paths we take in life."—Bill Gates, GatesNotes
23. The 4-Hour Workweek: Escape 9-5, Live Anywhere, and Join the New Rich
"Someday" is a disease that will take your dreams to the grave with you." – Tim Ferriss
Most people work themselves into the ground when they are young, only to find that retirement isn't what they had hoped for later.
Tim Ferriss encourages us to think differently. Challenge the status quo and consider what work would look like if we did less and achieved more.
See the 4 Hour Work Week Here >>
24. The Big Leap (Money Mindset Books)
*A quick read!
In The Big Leap, bestselling author Gay Hendricks explores our "upper limit problem." It's the self-sabotage and destructive behavior we engage in when good things happen. And it occurs to all of us.
In the book, learn how to overcome this huge life obstacle to achieve your financial (and life) goals.
25. A Happy Pocket Full of Money, Expanded Study Edition: Infinite Wealth and Abundance in the Here and Now
True wealth goes beyond the cash. Step into abundance, happiness, and joy. A Happy Pocket Full of Money takes a different approach to your money mindset, showing you that goals, mantras, and a philosophy of giving are crucial elements of wealth in life.
26. MONEY Master the Game: 7 Simple Steps to Financial Freedom
"If there were a Pulitzer Prize for investment books, this one would win, hands down" (Forbes).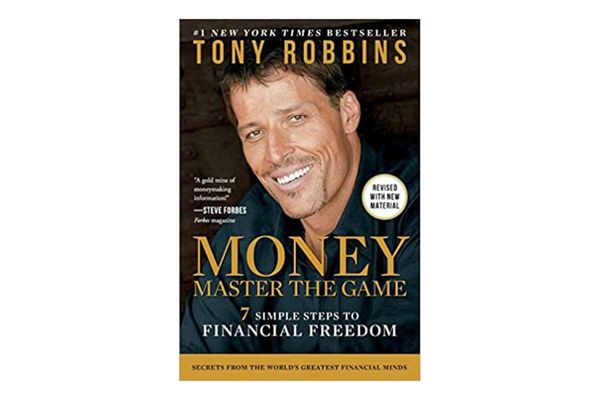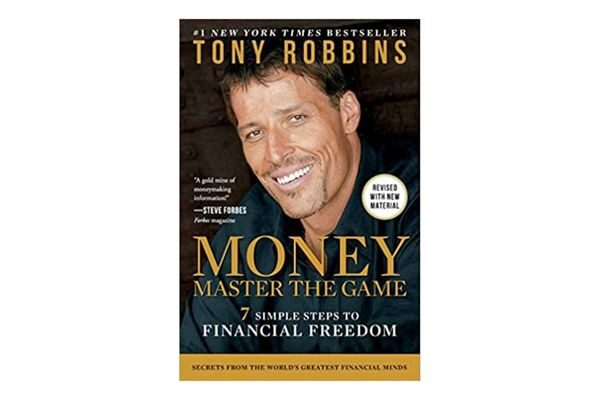 From the great motivator Tony Robbins comes a book about mastering your relationship with money. This book is based on research and interviews of the most prolific investors of our time. It includes a step-by-step road map to financial freedom.
See Money Master the Game here >>
27. Money, A Love Story: Untangle Your Financial Woes and Create the Life You Really Want
And finally, Money a Love Story is one woman's story from debt to financial freedom. First, she walks you through a relationship quiz to determine where you are with money. Then, you will learn a framework for finding the patterns that hold you back and a plan for getting where you want to be.
To Consider With These Money Mindset Books
I hope you found books here that inspire you to shift your thinking.
Because why wait? Our time is limited. Build abundance, joy, and wealth today.
What are your favorite books for a productive money mindset? Leave a comment and let me know!
More Wealth Building Articles…