How To Make a Monthly Meal Plan & Save (+Printable Template)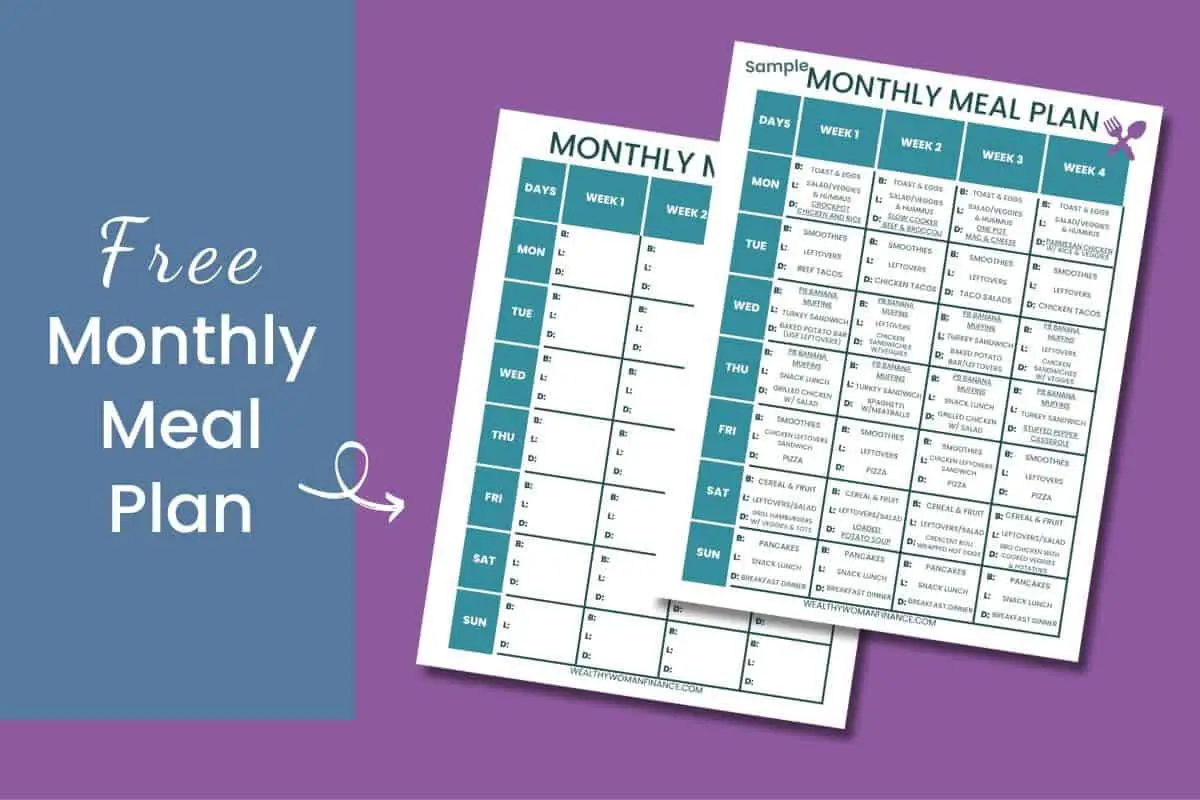 How Do I Create A Monthly Meal Plan?
"What's for dinner?"
If you start to sweat while asking yourself this at 5 pm, you are not alone!
Yet, with our tips and free printable monthly meal planner template, you can make a monthly meal plan that works for your family and saves you money.
Why Make A Monthly Meal Plan?
Whether you are cooking for two or a family of five, having a monthly meal plan will:
Save money– You are more likely to skip eating out, avoid unnecessary grocery purchases, and use what you already have.
Save time– You will have the meals you need for each day. Plus, you won't have to 'reinvent' the meal planning wheel every week.
Avoid wasting food– You will know what ingredients you have and what you need for each meal.
Save your sanity– Busy days will be easier with a monthly meal plan!
Follow these tips to setting up your own flexible monthly meal plan. Then, grab our free sample monthly meal plan as well as your blank printable monthly meal planner template below.
This post contains affiliate links, and we may earn a commission at no cost to you. See our disclaimer for more.
How to Make A Monthly Meal Plan: 6 Easy Steps
Make a monthly meal plan now, including ideas for breakfast, lunch, and dinner.
And it will require you to only sit down once a month to make a plan.
Step 1: Print Out the Free Monthly Meal Plan Template
First, print out the free monthly meal planner (located after step #6)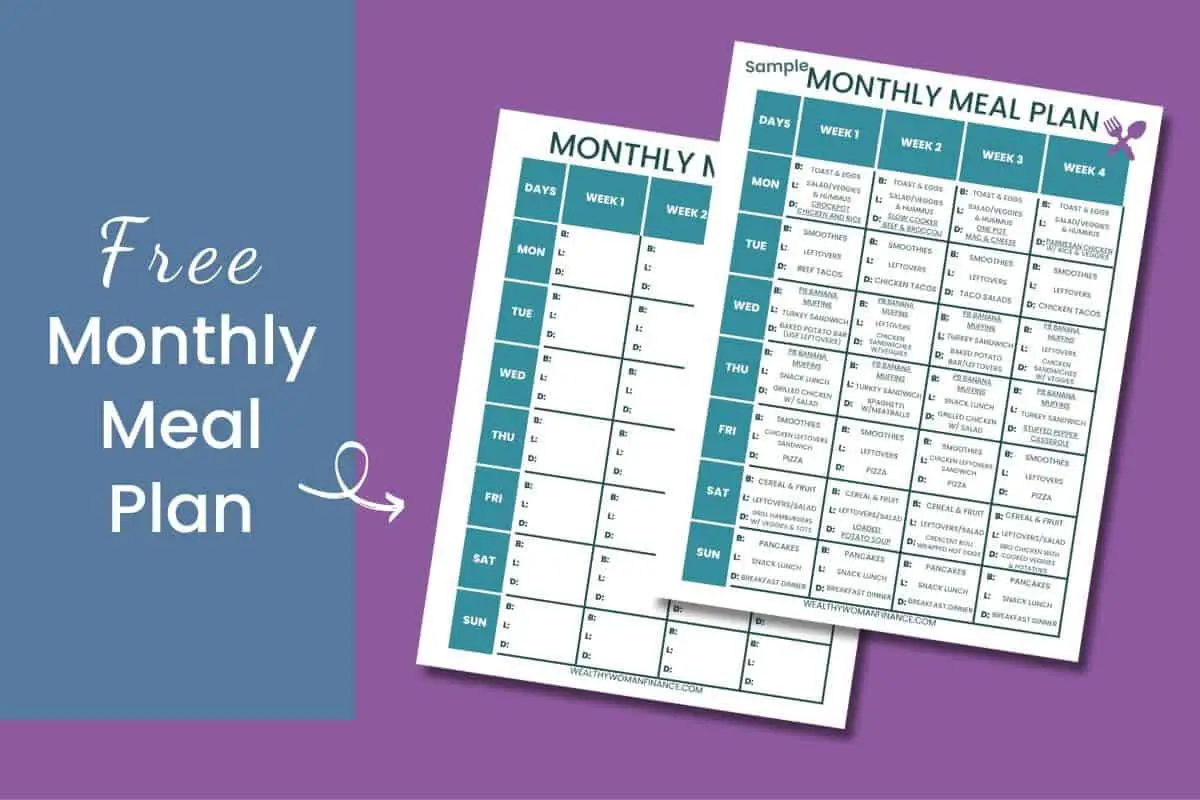 Then, use the sample meal plan and tips to make a monthly meal plan that works for your family.
Step 2: Look At Your Family Calendar
Your family schedule will vary depending on the time of year. Make sure the meals you are planning are sensible and realistic for busy mornings and evenings.
Before you start adding meals to the plan, check your schedule.
Account for:
school and work schedules
sports practices and other evening activities
holidays and special occasions
travel
Doing this will avoid planning unnecessary meals as much as possible. This will also cut down on food waste (saving you money).
Step 3: Write Dinner Meals To Repeat Weekly
Next, write in dinner meals that you can use every week.
We always have:
Taco Tuesdays (or some easy variation on tacos)
Pizza on Fridays to go along with family movie night
Breakfast for dinner (eggs, bacon/sausage, waffles/toast, fruit)
That means I already have 3 dinners each week (or twelve for the month) planned. I also know I always need the ingredients for those meals.
Step 4: Add Dinner Meals Your Family Enjoys
Next, add easy meals your family likes to eat to the monthly meal plan. These should include simple ingredients.
Save the easiest meals for busy nights and add more elaborate meals to free evenings. If you like to cook, you can also include a new recipe or two each month.
Setting a budget for your monthly meal plan can help you save money and avoid overspending. Consider how much you can afford to spend on groceries each month as you plan.
Related: Best Budget Categories List
Step 5: Have Simple and Healthy Breakfast Options
My family tends to stick with the same types of breakfast foods, which makes planning easy.
Have options available for your kids to make their own breakfast. Or give your kids two or three breakfast options each week. Save money and waste by not going overboard with costly foods.
Here are quick, healthy, and budget-friendly ideas:
oatmeal
apples and peanut butter
smoothies
eggs and toast
freezer options like waffles, egg sandwiches, pancakes
less sugary cereal (limit choices)
granola and yogurt
fruit
Step 6: Make Lunch Planning Easy
Whether you are packing lunches for school and work or eating at home, buy the same types of food. Again, keep it simple.
leftovers
sandwiches/wraps
salads
cheese, crackers, pepperoni, salami
vegetables and hummus
fruit options
Let your family help choose meals they like when making your monthly meal plan. Also, get your family involved in helping prep meals as much as possible!
Monthly Meal Planner Template
Download your free printable monthly meal planner template pdf here. Also, get the free sample monthly meal plan with recipe links.
*This is a basic sample monthly meal plan that could work any time of the year. In this plan, I use dinner leftovers for lunches and leftover protein for additional meals during the week. I also use simple breakfast and lunch meals that I always have on hand. I supplement meals with seasonal fruits and veggies.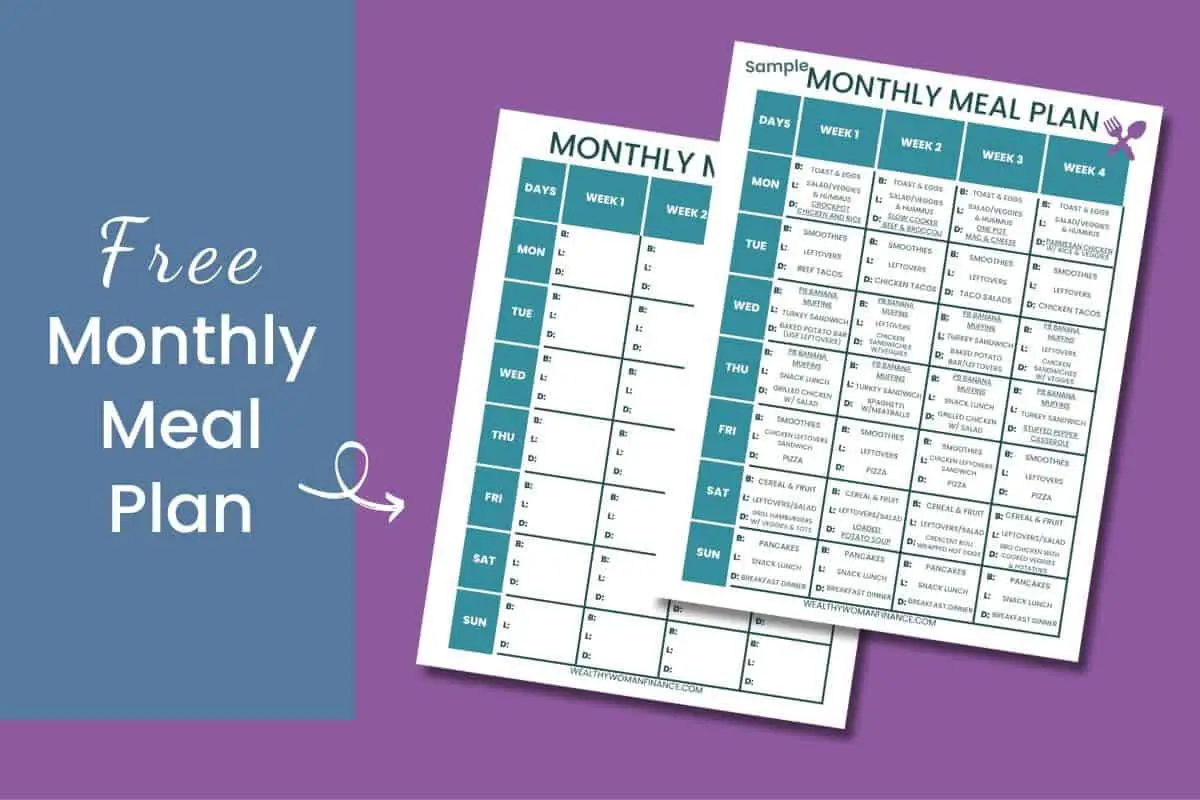 Related:
Monthly Meal Plan Tips & Ideas
1. Be Flexible With Ingredients
When planning, try to incorporate meals that use similar ingredients.
For example, when buying buns for hamburgers, use the leftover buns to make an easy garlic bread side for spaghetti. And when buying fresh produce, make sure you can use it all up with more than one recipe while it is fresh.
2. Take Inventory
Start your monthly meal plan by incorporating what you already have.
Go through your pantry and freezer to see what food needs to be used.
3. Grocery List and Shopping Tips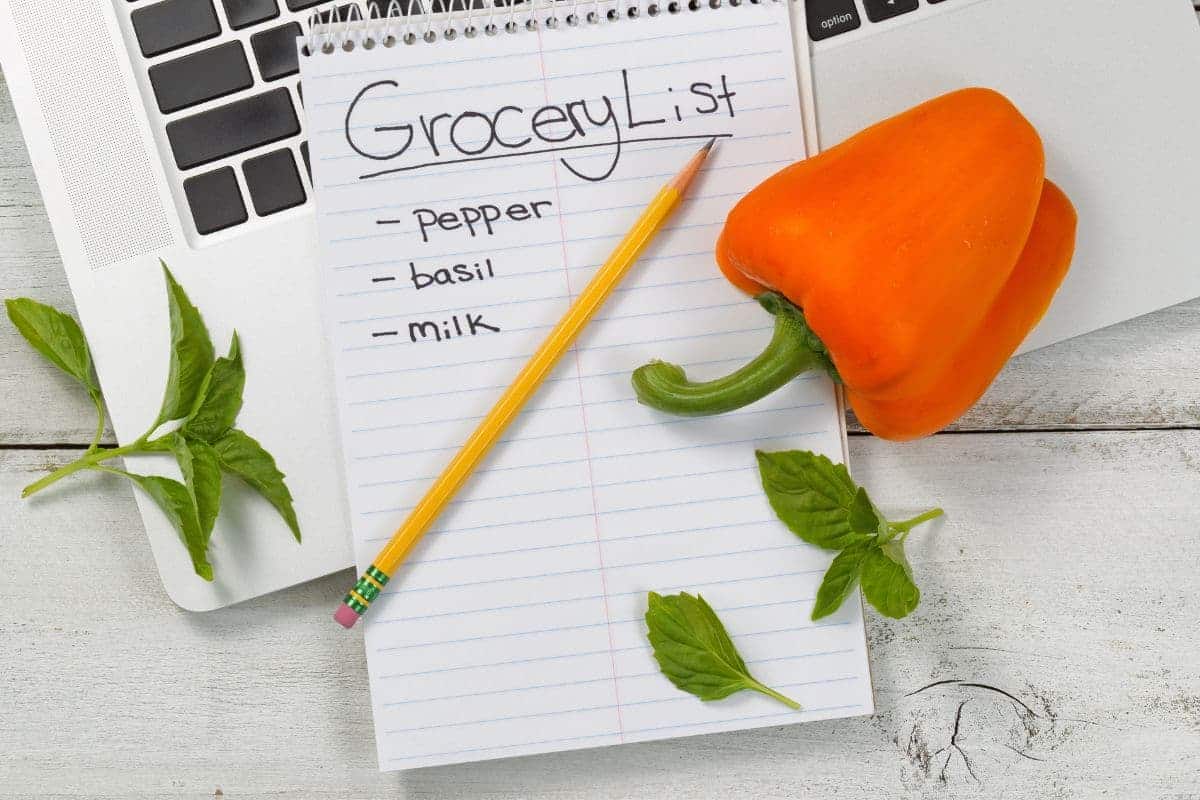 Make a grocery list from your monthly meal plan with the items you can buy now for the month. Try to shop once a month for the bulk of pantry and freezer items.
Then, create another column on your grocery list for things you will have to buy fresh. For those, shop weekly or every other week.
Designate a spot in the kitchen for an ongoing grocery list that anyone can add to when something needs to be restocked.
Ordering groceries online is a smart option for busy families. This allows you to stick to your list and only get what you need.
If you comparison shop at more than one store, try to limit the amount of time you spend at each store to once a month.
The goal of a monthly meal plan is to not only have healthy meals at home, but also to save on time and money in the store.
4. Use Leftovers
Avoid waste and protect your budget by eating your leftovers.
Cook for two nights and then plan to use the leftovers for the next dinner. You can add another side, turn a leftover protein into a sandwich, or use leftovers in a soup or salad.
It is also 100% okay to push back a meal you have planned in order to eat leftovers.
5. Eat With The Seasons
Monthly meal planning for December will look different than your June meal plan. Plan to eat with the seasons to save money and to add variety to your family's diet.
Incorporate fresh seasonal fruit and vegetables into your meals and use these for snack options.
In the summer months, plan to grill as much as possible.
Use the crockpot for warm-filling soups and stews during the winter.
Related: Creative Ways To Save Money
6. Make Ahead Meal Options
Find ways to make meals in advance to have for the month.
Cook once, eat twice. Double the recipe you are cooking and freeze half for later use.
Make ahead freezer meals that you will use in your monthly meal plan. This will take one afternoon, but you can end up with several delicious, healthy, and budget-friendly meals.
Cook or grill enough protein at one time that you can use it in 2-3 meals that week.
7. Plan For The Unexpected
Inevitably, there will be days when meal plans (or recipes) have failed or there are unexpected schedule changes.
Always have a few options on hand in your pantry or freezer that you can substitute when needed to avoid grabbing fast food.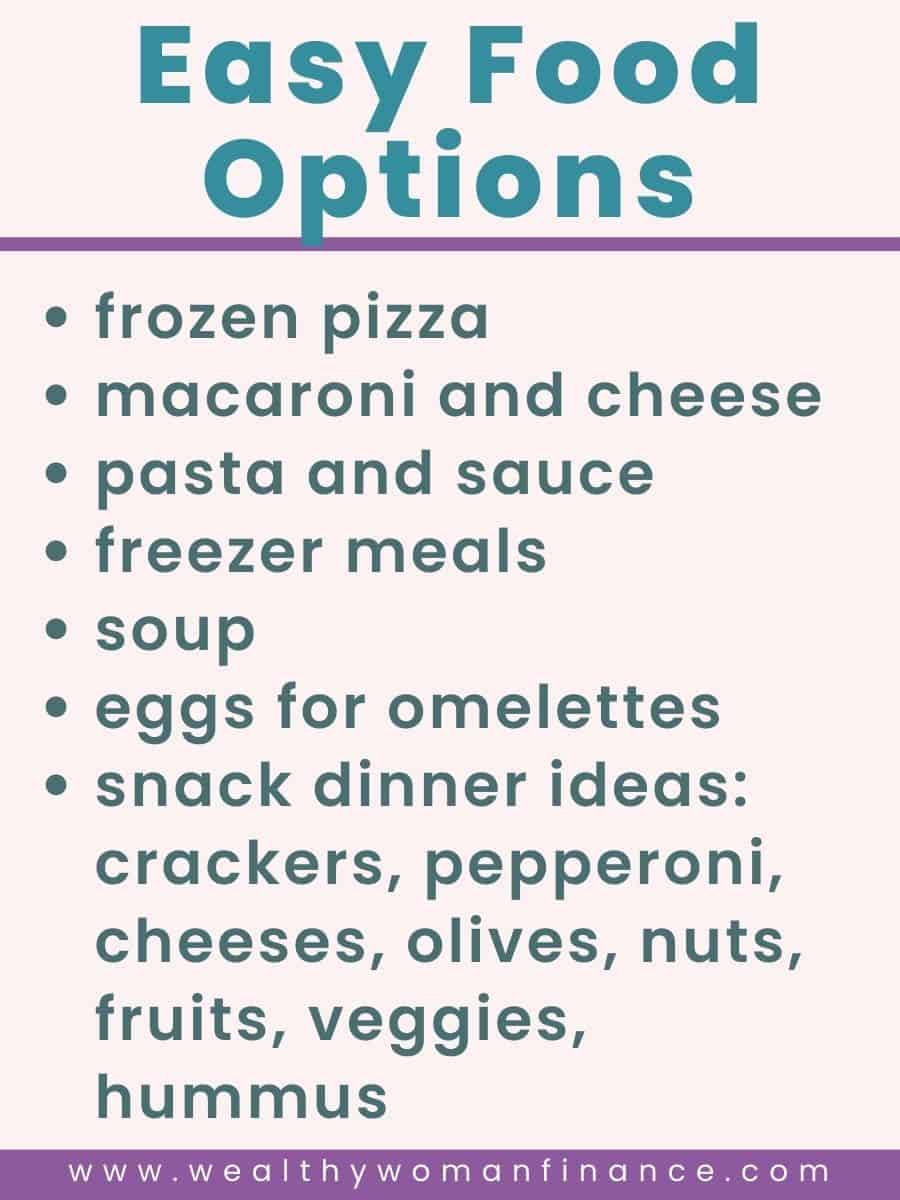 8. Protein Hacks
Use these hacks to avoid protein failure at dinnertime.
Move what you need for the week from the fridge to the freezer on Sunday night so it has time to thaw.
Buy a rotisserie chicken, shred it, and freeze it for a quick protein option you can easily pull out.
Cook, shred, and freeze chicken ahead of time to use for tacos, salads, or in soups.
When browning meat, double or triple the amount and then freeze the cooked meat for later.
To save money at the store, buy meat that is on sale and plan meals around that meat. Freeze what you won't use immediately.
Plan for more meatless options if that works for your family.
9. Prep Fruits and Vegetables
When you bring home fresh produce from the store, wash and prep what you can. Then, keep a container of cut vegetables for easy snacks and meal sides.
You will notice that when you have fresh foods ready to eat, they will get eaten and used!
10. Tips for Snacks: Monthly Meal Plan on a Budget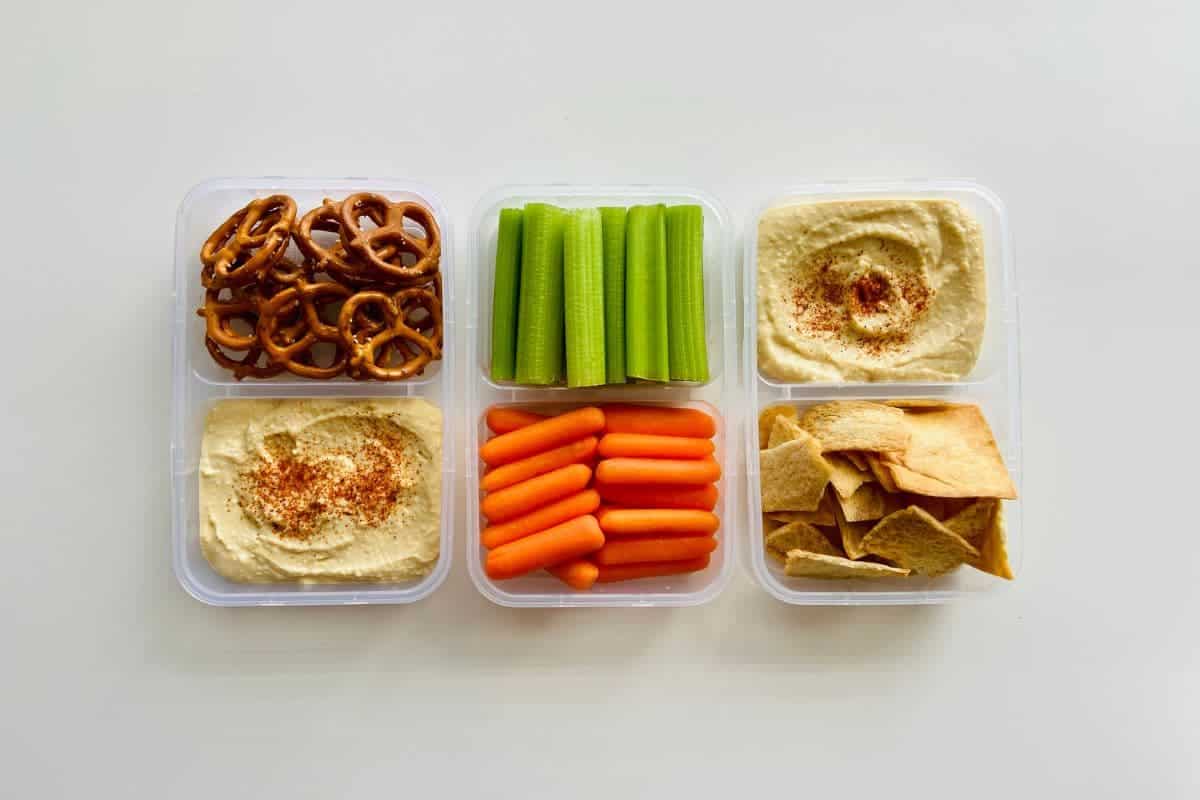 When you have kids, you know that it's always snack time.
Have a plan for snacks to avoid spending too much money on junk food.
Use fresh fruit and vegetables you have prepped.
Have a place in your pantry where you store snacks for the kids.
Have hard-boiled eggs, meat and cheese sticks, nuts, and other easy protein options available.
Teach kids that you have expectations around snacks in your home.
In our house, we have designated snack times between meals. My kids can pick one snack from the pantry or a protein snack I have prepared and a fruit or vegetable to go along with it.
10. Reuse What Works
Once you set up a monthly meal plan, reuse what works! You don't have to recreate your plan every month.
Save your monthly meal plans to use again!
11. Be Flexible (and Realistic)
Don't feel restricted by your monthly meal plan. You can still have flexibility when you need it or want it. Make substitutions or switch up the order of meals when necessary.
If your family enjoys eating out, plan for it in your monthly meal plan. There's nothing wrong with eating out, but it's better if it's planned and in your budget.
The goal is to have an overall monthly meal plan that you can adjust as needed, is healthy, and fits into your budget.
Related: Free Savings Calculators and Living Below Your Means
To Consider With A Monthly Family Meal Plan
Feel good knowing that you will always have an answer to "what's for dinner?" with your monthly meal plan.
Plus, you will notice you have more time, money, and less stress when it comes to healthy meal planning.
Let me know how your monthly meal planning goes!
More Wealthy Woman Finance posts you'll love…
One Month Meal Plan + printable planner template pdf