30 Day Savings Challenge Free Printable (Save Big $ in 2023)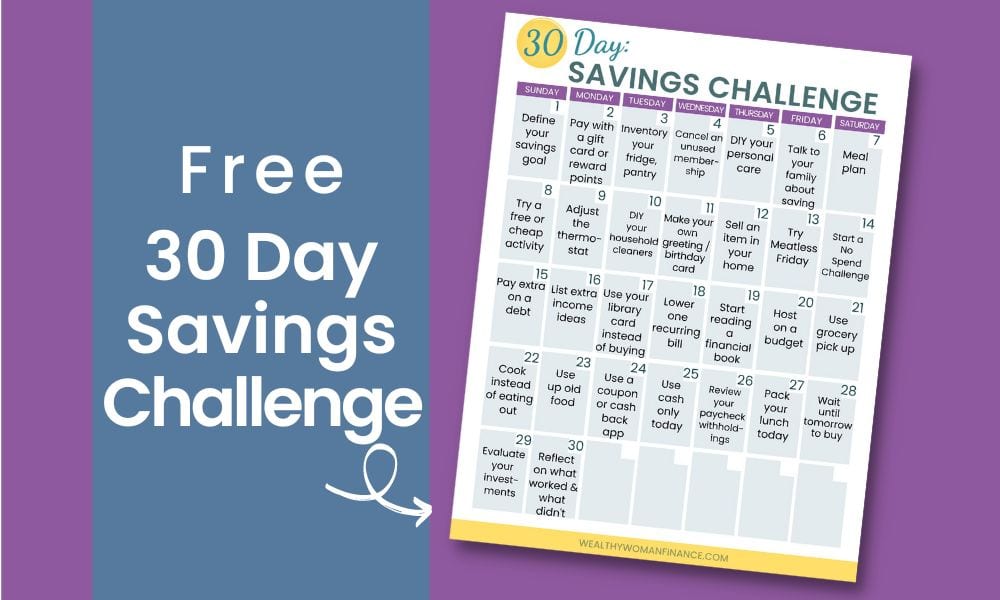 What is the 30 day money challenge?
This is a fun 30 day money savings challenge that focuses on action. Sometimes, we get stuck on saving the "right amount" and we miss the forest for the trees. What matters is that you are learning, taking the steps, and building wealth habits.
This post contains affiliate links, and we may earn a commission at no cost to you. See our disclaimer for more.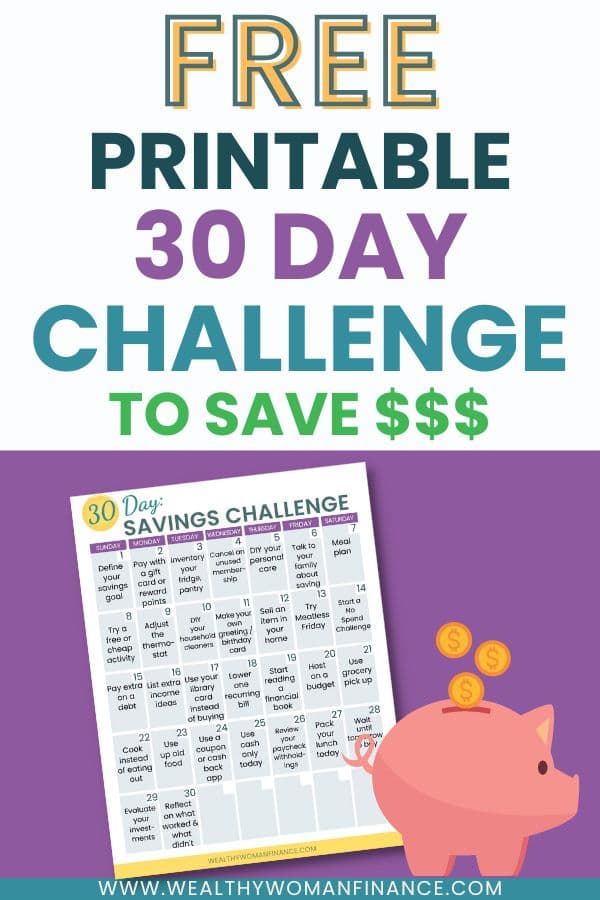 How to Save Money in 30 Days
All you have to do is one action a day.
Do you have to do these days in order? Heck no!
Some days won't match up exactly with your weekly routine, and that's ok. Cross off the days as you do them on the 30 day savings challenge printable. And work in whatever order fits well with your lifestyle.
4 week money Savings challenge: Start now!
Depending on your situation, we're talking $500, $1,000, to $10,000 – in one month!
Day 1: Define your savings goal and how you'll keep track.
This 30 day savings challenge will work best if you have a reason why you want to save money. Is it for financial freedom? Security for your kids?
Write down exactly what you are saving for on a piece of paper and put it on your fridge. This will help you follow through when the going gets tough!
Then, grab a free tracker from these articles below if it fits your specific goal:
Day 2: Use a Gift Card or Reward Points Today
Most of us have gift cards and reward points that we've forgotten about. Today, spend five minutes pulling them all out. Now, use up one of these for a basic purchase.
Instead of buying coffee, use that year-old gift card. Or utilize your gas points. Or pay for something with credit card rewards.
Then, leave a list of what else needs to be used up on the fridge.
Day 3: Inventory your fridge, freezer, and pantry
Before you go to the grocery store today, pull out everything you have and take inventory. Make a special note for things that need to be used up and plan your grocery trip around what you already have.
You will save big money this way because you won't be buying items you had!
Day 4: Audit your recurring Memberships/Subscriptions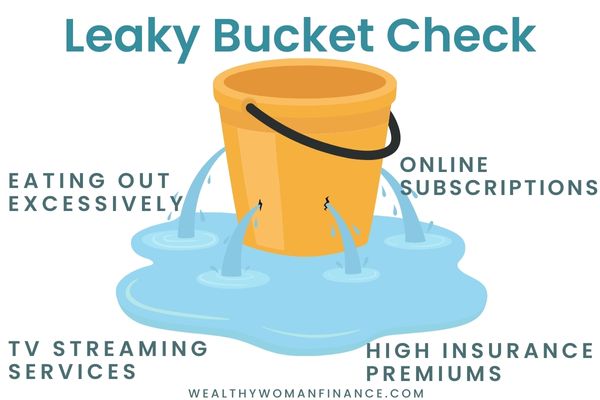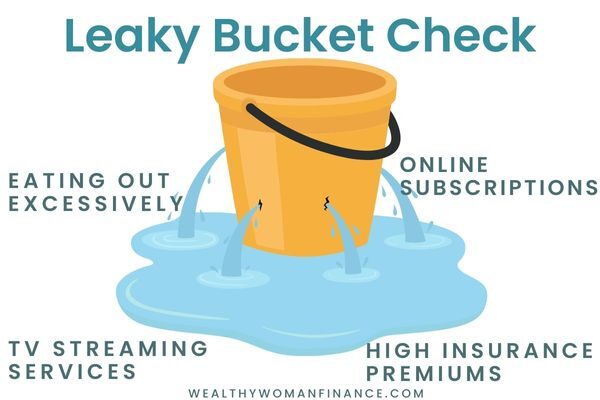 Many of us have "leaky bucket" items! And often these are the sneaky memberships and subscriptions we accumulate over time. Check over these to be sure that you are using what you pay for (and that it has big value to you). If not, it's time for it to go!
Excessive tv streaming services (or cable)
Audible or music streaming
Gym memberships
Work subscriptions
App upgrades and online magazines
Gaming services
Subscription boxes
Cloud storage
Food delivery services and meal kit plans
Warehouse memberships
Cancel your email subscriptions to your favorite stores too. You won't be tempted to make future impulse purchases!
Day 5: DIY your personal care
Instead of opting for an expensive hair coloring or a fancy pedicure, do it yourself this time. You'll learn a new skill! Invite a friend over to do it together and now you have quality time with a loved one as well.
Day 6: Talk to Your Family about saving money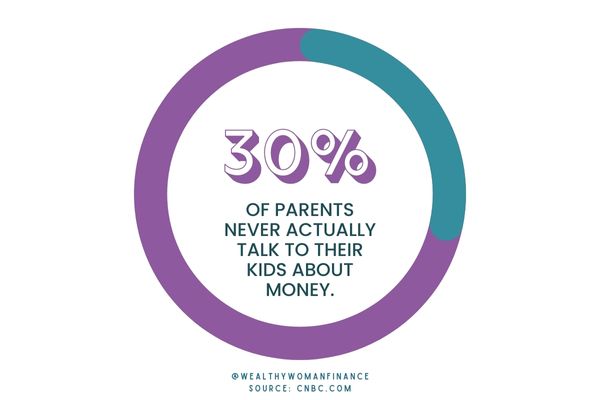 If your family isn't on board with saving money, you will lose momentum in this adventure. It becomes too hard to fight against the pull of others.
So, share and make money goals together and talk about what it means for you to have financial freedom. Teach kids about budgeting and the value money has now, and you will be setting them up for life.
*These books can help you explain money to kids (and partners) too >>
Day 7: Meal plan
Planning your meals ahead of time saves you at the grocery store because you know exactly what to buy. It also saves you from grabbing expensive takeout. This is one simple action that is a HUGE household win!
Here are a few tips to make this easier:
Schedule a weekly time to meal plan. Be specific.
I will meal plan Saturday mornings at the kitchen table at 8:00 am.
Consider your schedule. I know that we need fast and easy meals on the nights when activities keep us busy.
Be specific about who does what. When my hubby and I know precisely which nights are our turn to cook, things run much smoother.
Consider what you marked down from day 3! Meal plan around what you already have and need to use up.
Related: How To Stop Eating Out and Free Monthly Meal Plnner Template
Day 8: Swap an Expensive Activity For a Free One (Or Cheap)
Plan a fun night at home with popcorn and an inspirational family movie.
Or pick from one of these other free or cheap things to do. Today is a great reminder that you don't need to spend hundreds of dollars to have a good time with the people you love!
Day 9: Turn Down (or Up) The Thermostat
Save a little money and see if anyone even notices.
Day 10: Make Your Own Household Cleaners
We've found that these are gentler on our home and often include ingredients that we already have. Try one of these homemade cleaner recipes >>
Day 11: Make Instead of Buy a Greeting Card
Chances are that sometime in this 30-day money-saving challenge you'll have a birthday or holiday. But this time, write a handwritten note instead. Be thoughtful and tell that person why you love them.
Trust me, they won't miss the expensive card!
Day 12: Sell Something In Your Home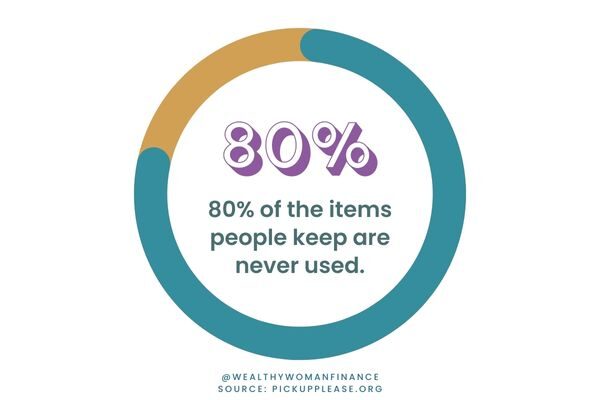 If 80% of what we have isn't used, then it's time to sell something and make some money! You can go all in for a garage sale here, but you can also make it much easier by selling an item on Facebook or something to a friend.
Day 13: Try Meatless Monday. Or Sunday. Or Wednesday.
Tons of health studies tell us that eating lots of meat is bad for your health. And yet, meat consumption has increased by 40% since 1961 (source). Additionally, meat at the grocery store is one of your most costly purchases.
So today, make a meatless dinner. Just one meal. Try a new recipe and see what you think! Here are a few yummy options:
Day 14: Do a No Spend Challenge Today
No matter what, for 24 hours you don't spend money. (Minus utilities and survival necessities of course!)
See what you learn and how resourceful you can become.
Day 15: Pay Extra on a Debt
Use your savings from the last 14 days (&/or money in the bank) to pay down a debt with high interest. This saves you BIG over time because that debt keeps compounding.
If you pay PMI on a home loan this is another extra expense to get rid of as soon as possible!
Day 16: Make a List of Extra Income Options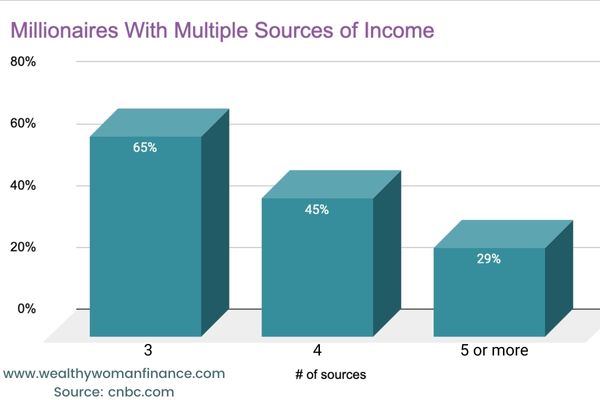 Saving money isn't only about spending less. Sometimes, making extra cash is a whole lot easier than sacrificing. So today, make a list of ways that you can make extra money through active or passive income. Then, do one action task towards this thing.
Here are quick ideas to get you started:
Sell more stuff (your own or things you make)
Fix and flip items
Coach or tutor
Rent something out (a portion of your home, your car, your RV, etc.)
Build a passive income stream (online business, self-publish, invest)
See more unique ways to make $500 fast here >>
Day 17: Dust Off Your Library Card
Not only will using your library card save you in book money, but you can use the library to learn all sorts of useful skills.
Here are great book posts on the site for ideas:
Day 18: Lower One Recurring Bill (Saving Hundreds Over Time)
For almost all of us, there is at least one bill that you can reduce.
Negotiate again (#18), shop around, or bundle things together. If you truly can not find low-hanging fruit, then go on a crusade to lower your water or electricity bills.
Check these:
Insurance
Phone Bill
Internet
Water
Electricity
Gas
Subscriptions/Memberships (you decided to keep from day 4)
Can you combine with family members to make any of these cheaper?
Day 19: Start a Financial Book (Using That Library Card!)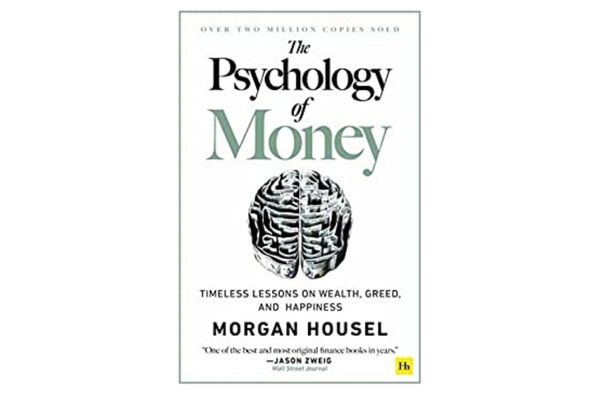 Sure, this might not save you money directly, but indirectly it can bring you incredible future wealth. Books are the highest-leverage learning resources available. And knowledge is power friend.
*Build a solid millionaire morning routine while you are at it!
Day 20: Host Someone on a Budget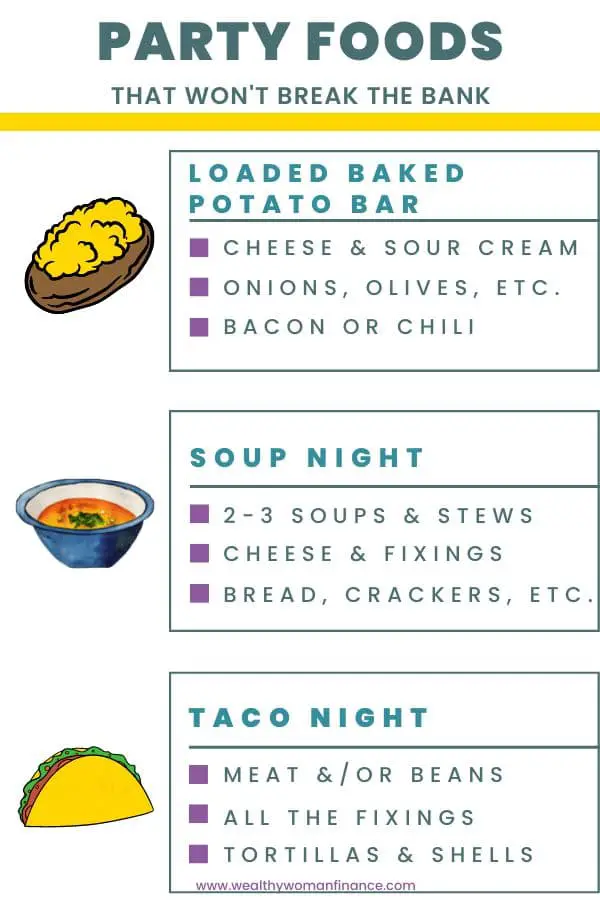 Saving money doesn't mean you have to sacrifice your social life. Instead, just be smarter about how you do it. Host others in your home with cheaper (but just as fun) foods. And have others bring sides to keep food costs down.
Day 21: Use Grocery Pick Up Today (30 Day Savings Challenge)
Not only does it save you time, but it saves money too. Staying out of the store means you won't be tempted to buy the mega bag of M & Ms again.
Day 22: Decide to Cook Instead of Eat Out Today
Even if the Dominoes app is calling your name, fight it friend. You've got this! Whip up a quick meal that gets you through (and saves you $15-50 depending on the size of your family).
If you are feeling especially strong, double your recipe and freeze it for dinner another night. (That could save you $30-100 for two meals!)
Day 23: Go Through Your Food and Use Something Up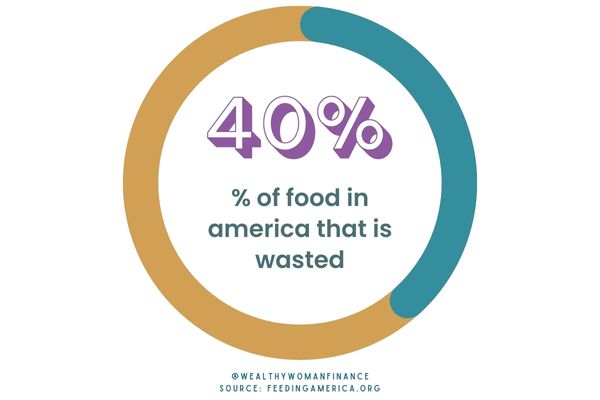 Nearly 40% of all food in America is wasted (FeedingAmerica.org).
How much are you wasting?
Today, look at your list from day 3 or take a new inventory. Then, cook lunch and dinner based on the things that need to be used up.
Day 24: Use a Coupon or Cash Back App Today
Coupons can save you big money! But make sure that:
You are using them on something you would have bought anyway.
You value your time as well. If couponing takes you 3 hours to save five bucks, there are easier ways to save money.
Try retailmenot.com if you are purchasing something online. It is quick and easy, and you can save significantly on major retailers if you check it before you buy.
Day 25: Use Cash Only Today
Ever wonder why people like cash-only systems? Because it is a lot harder to part with physical cash than to swipe a card! So, try it out!
For one day, set aside an allotment of cash and spend only what you have. You might be surprised by how effective this system works.
*And if you love this day, check out the 100 Day Envelope Challenge!
Day 26: Scrutinize Your Paycheck Withholdings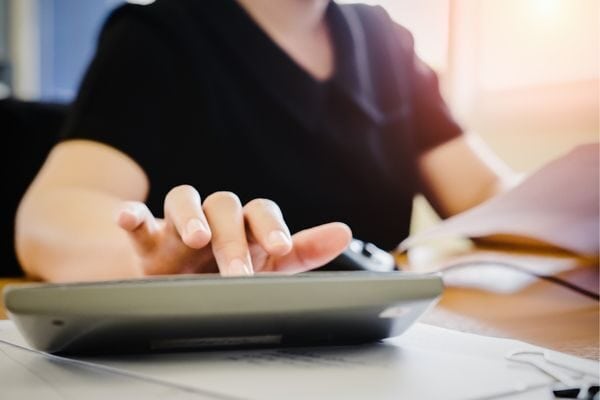 Taxes
If you get a big refund every year, consider adjusting your withholdings so that you can keep more of your own money. Instead of letting the government hold on to it for you, put it into a high-interest savings account and compound your money.
Retirement
Make sure that you are putting enough into your retirement to get the match from your employer if one is offered. This is free money! Once that's done, could you benefit from adding more? These investments will accumulate over time!
Everything Else
Take advantage of a Health Savings Account (HSA) account if it is available, as this has excellent tax benefits. Also, check to see that you are happy with your insurance coverage and anything else that is taken out of your paycheck. Sometimes, we set these up and then never look at them again. This could be money or coverage that doesn't match how you are living.
Day 27: Pack your lunch today
Stick with the basics if you seldom do this but make sure you brown bag a great lunch. If you look forward to the food, you won't miss the restaurant fare at all.
If you pack your lunch anyway, then make it something else like your morning coffee.
Day 28: Wait Until Tomorrow
Put that thing you love into your online cart and let it sit – for 24-48 hours. If you are at a physical store, then put it back on the shelf. After, come back to what you were going to buy and buy it if it's still in your heart to do so.
Day 29: Evaluate Your Investments
There are three ways that you can give yourself a pay raise here.
1. Check to see if your investments have low fees. According to our investing statistics, index funds are the way to go for low fees, ease of investing, and good returns too.
2. See how much cash is sitting around. If you have an emergency fund fully funded, perhaps it's time to add to your retirement or invest in other ways to make your money work for you.
And what will you do with a cash windfall or bonus? Have a plan in place to invest it.
3. Rebalance. You can do this yourself on brokerage sites that show your portfolio's big picture. These tools help you see if you have too much money allocated in one category or fund.
Related: How to Start Investing With $500
Day 30: Take Stock of What Worked and What Didn't
First, pat yourself on the back. You just completed 30 days of saving serious money! You are a rockstar!
Now, reflect on the challenge. Were some activities harder than others? Why?
Then, look at your overall budget. After doing the challenge, are there obvious components in your spending that need to change? Are you living above or below your means?
Tips to Complete The 30 Day Savings Challenge
With wealth building, the little things do matter! Try any (or all) of these to help you follow through on the challenge.
Put the calendar on your fridge (and any trackers you might be using)
Automate your savings. Set it up to be taken out of your paycheck every month and forget it. Then watch the money pile up.
If you don't want to automate (because you're not sure how much you will have each day), then create a daily habit to transfer your money. The act of moving your money to savings will help you feel empowered to keep going!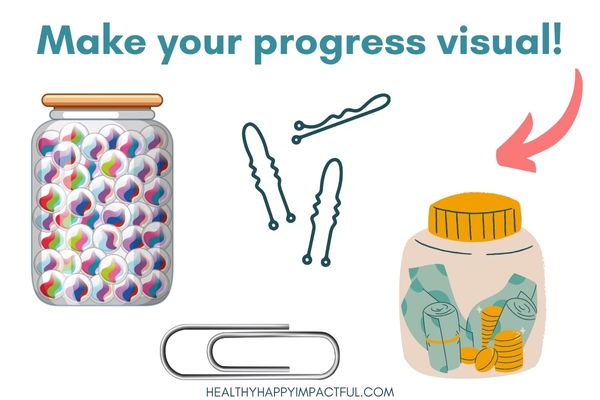 Utilize more visuals like a savings jar, piggy bank, or even moving marbles over every time you save.
Grab The 30 Day Savings Challenge Printable Calendar
Get the Free 30 Day Money Savings Challenge here!
Make It A 30 Day Money Envelope Challenge
Want to try this with a cash envelope system? Take out the money you will need for the entire month. Then, every day that you save money on something slip that cash into an envelope or jar. At the end of 30 days you will see that stash and feel like a million bucks!
*Keep it rolling with a 200 day envelope challenge >>
More Savings Challenge Articles You'll Love…
Free Calendar Printable Money Savings Challenge