How To Stop Eating Out: 20 Tips +Challenge (2023)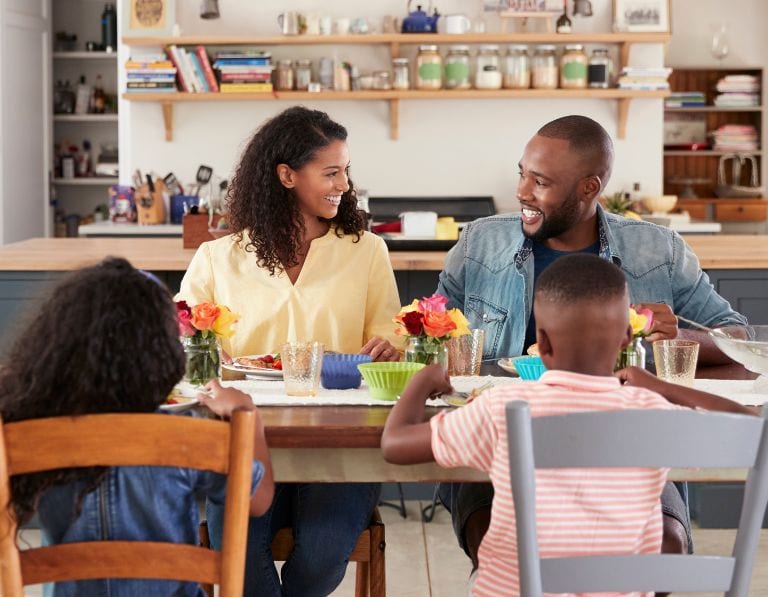 Can you remember the last time you ate out at a restaurant?
Is it all the time?
If you think it may be a bad habit, read these great tips on how to stop eating out. They will add money to your bank account and create amazing financial habits for your family.
This post contains affiliate links, and we may earn a commission at no cost to you. See our disclaimer for more.
How Do I Stop Eating Out And Start Eating At Home?
Eating out is an enjoyable way to connect socially, try new foods, and take a break from cooking. We like to do it.
But many of us are eating too many meals away from home.
In 2021,
total U.S. food service and drinking place sales amounted to about 876.33 billion dollars.
And, the average food away-from-home expenditure of U.S. households amounted to about $3,030. (source)
Eating out too much not only drains our wallets, but can lead to health issues too.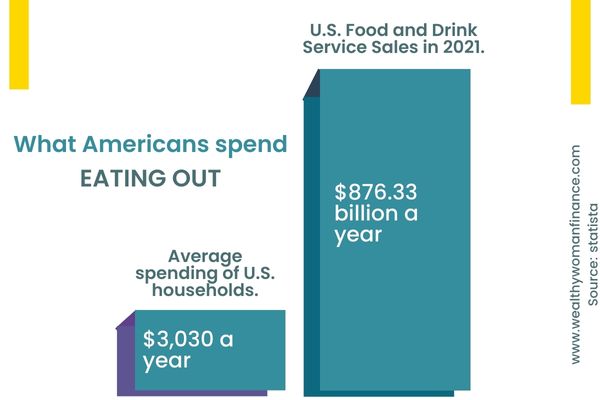 So, how do we make the leap from eating out to eating in?
1. Start with a budget
First, determine how much you spent on eating out in the past month. Then look at how much you spent on food groceries in the past month.
Next, set a reasonable grocery budget for the month for your family. Make sure to add to your grocery budget as needed to account for the fact that you won't be eating out.
Related: Find a Budget Calculator and a Budget Categories List
2. Have a plan
Too often, we eat out because we're missing a plan. Once you know your grocery budget, plan for all of the meals your family will eat each day.
Plan out your monthly meals on a calendar.
Make a grocery list of what you need.
Wash and chop vegetables and fruits before you need them.
Use help from the store when you can. You will still save money if you buy a bag of pre-chopped broccoli instead of deciding to eat out. (Yes, this has happened to me!)
Consider breakfast and lunches when you plan.
Pack lunches the night before. If it's packed and ready to go, you will have a hard time leaving it at home.
Set the coffee timer and make your coffee at night. Not only will you wake up to the heavenly smell of coffee, but you will lose the excuse to grab a $5 coffee on the way to work.
3. Get to know your pantry
When was the last time you went through your pantry?
Look at what you have and organize your pantry in a way that ensures that you are using food before it expires.
Then, if you have canned goods or pantry items that need to be used up, plan meals incorporating those items first. Always be thinking about what you have when planning meals.
This will save you time and money.
Related: How To Stop Buying Stuff You Don't Need
4. Make Easy Meals (How to stop eating out)
Easy meals have fewer ingredients and can be prepared quickly.
Plus, they use common items that you typically have on hand. These meals are also crowd-pleasers.
Buy a rotisserie chicken to use in recipes or serve it with a side of veggies and rice. If you notice hamburger patties or another easy protein option is on sale, buy it! You can always stick it in your freezer for later.
5. Plan Long-term
If you have the space, freezer meals are a major win when you have a busy week.
In the past year, I have been meeting with two other moms to make freezer meals once every 4-6 weeks. We get together to swap and leave with 9 meals that go right into my deep freeze.
Some of our favorite meals include:
Set a reminder to put your freezer meal into the fridge a day or two ahead of time so it has time to thaw.
6. Cook once, Eat Twice
When you are cooking a well-loved meal, double the recipe. Then put half into the freezer to use later.
Pull it out to enjoy when you need a meal that is already done for you.
7. Repeat meals
Our family has a version of Taco Tuesday every single week. We also have pizza on Fridays as well as breakfast for dinner on another night.
What are the advantages to having repeat meals?
You always have the supplies and ingredients you need on hand for these meals because you use them every week.
Planning your weekly meals takes less time.
When you are cooking family favorites at home instead of eating out, they are healthier. (You control the ingredients.)
Here's an example of what my weekly planning looks like for dinners.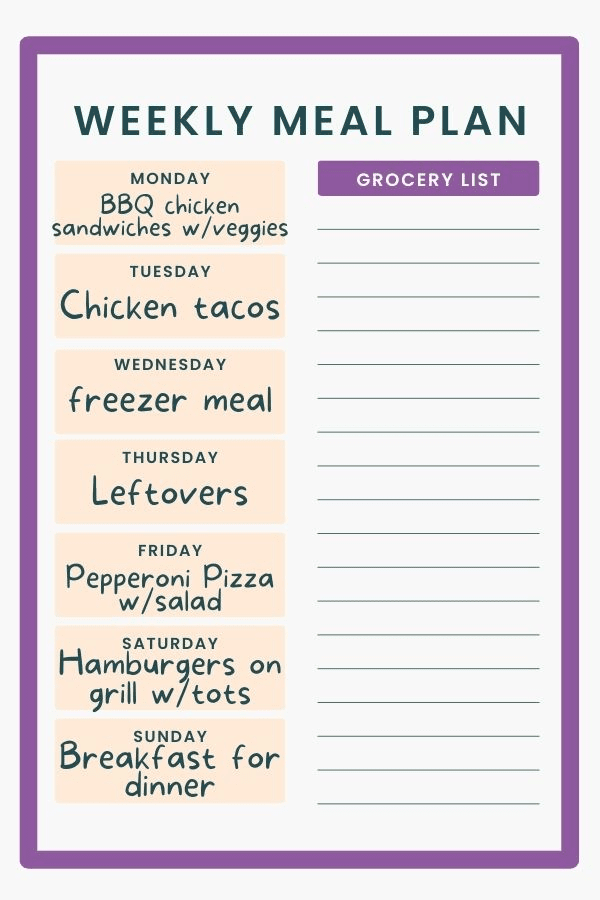 8. Eat leftovers
Eating your leftovers will protect your budget. You will also feel good about less waste.
Plan to cook for two or three nights in a row and then eat leftovers for the next night. You can always add an additional side to stretch leftovers into another meal for your family.
Turn your leftovers into an entirely different meal. For example, leftover taco meat could be used on baked potatoes. Leftover chicken could be made into paninis, etc…
Leftovers can also be used for lunches.
9. Get to know your appliances
If you have a crockpot, air fryer, or instant pot, start using them. These appliances will make cooking faster and easier.
And if you don't have appliances that make your life easier, invest in new ones that do.
I was hesitant to purchase an air fryer because I didn't want one more thing in my kitchen, but we use it all the time. It was worth it.
10. Share the job
A year ago, I was complaining about cooking dinner yet again, and my husband volunteered to start doing it. So, we began taking turns cooking throughout the week.
Make dinner a shared job in your house. Trade off with a spouse, one of your kids, or even a friend.
Treat dinner clean up the same way. In our house, if you do the cooking, you don't do the cleanup.
Everyone is eating dinner. Everyone can help with dinner.
11. Take Cooking Outdoors
When the weather is nice, cook outdoors. Use your grill or smoker to make an easy meal.
This also keeps the mess out of your kitchen. (Total bonus!) Eat outside when possible too for a really easy clean up!
Related: Smart Financial Questions To Ask
More expert tips For how to stop eating out
12. Make a list and order groceries online
Keep a spot in the kitchen for an ongoing grocery list. Anyone can add to this list when they use the last of something that needs to be restocked.
Plus, ordering groceries online is a smart option for busy families. You will stick to your list and only get what you need (saving you money!)
13. Shop in bulk
Shopping in bulk is helpful and saves money in the long run.
The key is only buying items you use on a regular basis.
These foods have longer shelf lives and can be stored in the pantry, freezer, or fridge for many months. This makes buying them in bulk a smart choice.
I always add coffee to this list. It's cheaper to buy the brand I want in bulk, and we never waste it.
14. Ambiance is key
Let's face it, eating out at a restaurant makes dinner feel special.
Turn up the ambiance in your own kitchen to make dinner time feel more like at the restaurant.
play music
dim the lights and light a candle
turn off the TV and put away cell phones
set the table with placemats
put fresh flowers in the middle of the table
light the fireplace
Your family will appreciate the efforts to make dinnertime memorable and something to look forward to.
15. Find new ways to socialize
We often eat out because it's a great opportunity to socialize. If you are wanting to stick to your food budget, consider these alternatives:
Invite family and friends over for dinner. They can bring a side or dessert to add to the meal.
Have a barbeque outdoors when it's nice out. Invite another family.
Suggest meeting at a park, taking a walk, or going bowling instead.
Related: Fun Things To Do on a Budget
16. recognize the health benefits
Food tastes good at a restaurant or we wouldn't keep wanting to go back. But, the food you order when you eat out tends to be richer than what you would prepare at home.
This can make it an unhealthy habit if you do it several times a week.
Even if you choose a healthier option, you don't always know what ingredients have gone into that dish. Plus, quantities are larger than you would put on your plate at home.
When eating at home, you can control the ingredients, make sure your hands and surfaces are clean, and have better portion control.
17. Switch Things Up
Make eating at home a fun experience.
try a different type of meal or cuisine
invite friends over
open a bottle of wine or make a fun cocktail or mocktail
use meals at home as a way to connect with your family through sharing and discussion
18. always have go-to meals on hand (How to Stop Eating out)
Inevitably, there will be days or weeks when meal plans have failed.
Have meals on hand that you can easily make so that you don't grab take out on your way home from work.
frozen pizza
eggs and waffles for breakfast for dinner
a snack dinner using crackers, pepperoni, cheese, olives, nuts, fruits, veggies, and hummus. Lay it out on a cutting board and let everyone make their own plates.
Snack dinner is my kids' all-time favorite dinner!
19. Enjoy Having More time
Eating at home is quicker than eating out.
You don't have to travel anywhere or wait on anyone. This means you have more time to do other activities with your evening.
20. Start A Garden
A garden is a great way to get everyone excited about eating at home. You may even be inspired to try different recipes based on what produce you have grown.
Start your garden earlier in the spring indoors to give them a head start before planting outside. Or buy transplants at the garden store to plant instead of starting from seeds.
If you don't have room outside for a garden, try a herb garden indoors to add flavor variety to your homemade dishes.
Related: Save Money In Creative Ways
30 day challenge: No Eating Out
It can be challenging to stop eating out. Set up a 30 day challenge for yourself and commit.
Here are steps to make a 30 Day No Eating Out Challenge easier.
Set a goal
Sit down and set your SMART goal for this challenge. Look at the 30 day time period you will complete the challenge in.
Are there special occasions you need to account for?
How will you handle social events, invites, and business lunch meetings?
Decide how to plan for these inevitable moments to make the challenge work for you. Then, set a SMART goal.
To save money, I will prepare all of my meals at home for the next 30 days. (Except business meals that are paid for by my company.) I will achieve this by eating breakfast at home, packing lunches when working, and making a weekly meal plan to prepare for dinner.
Have accountability
Find a friend or another family that wants to participate with you during the 30 day challenge. Fill out a commitment card with them.
This will help motivate you to keep going when it's been a busy day and you want the convenience of takeout.
Track your progress
Use a calendar to track your progress. Make it visible to your family.
Plan what to do with the money you saved
If you need extra motivation, take a look back at how much money you were spending on eating out.
Plan to do something fun or useful with the money you save.
Be realistic: How to Stop Eating Out Challenge
While not eating out will keep more money in the bank, make you overall healthier, and save on time, be realistic when it comes to your goals.
There will still be birthdays, holidays, and special occasions to celebrate with loved ones.
If these involve the occasional restaurant splurge, enjoy this time spent with people you love.
Related Posts:
To Consider With how to stop eating out
Eating at home will boost your bank account and your health.
Use these tips on how to stop eating out or take the 30 day no eating out challenge. Then, let me know how it goes!
More Wealthy Woman posts you'll love…
Stop eating out: 30 day challenge