25 Fun Money Saving Challenges for 2024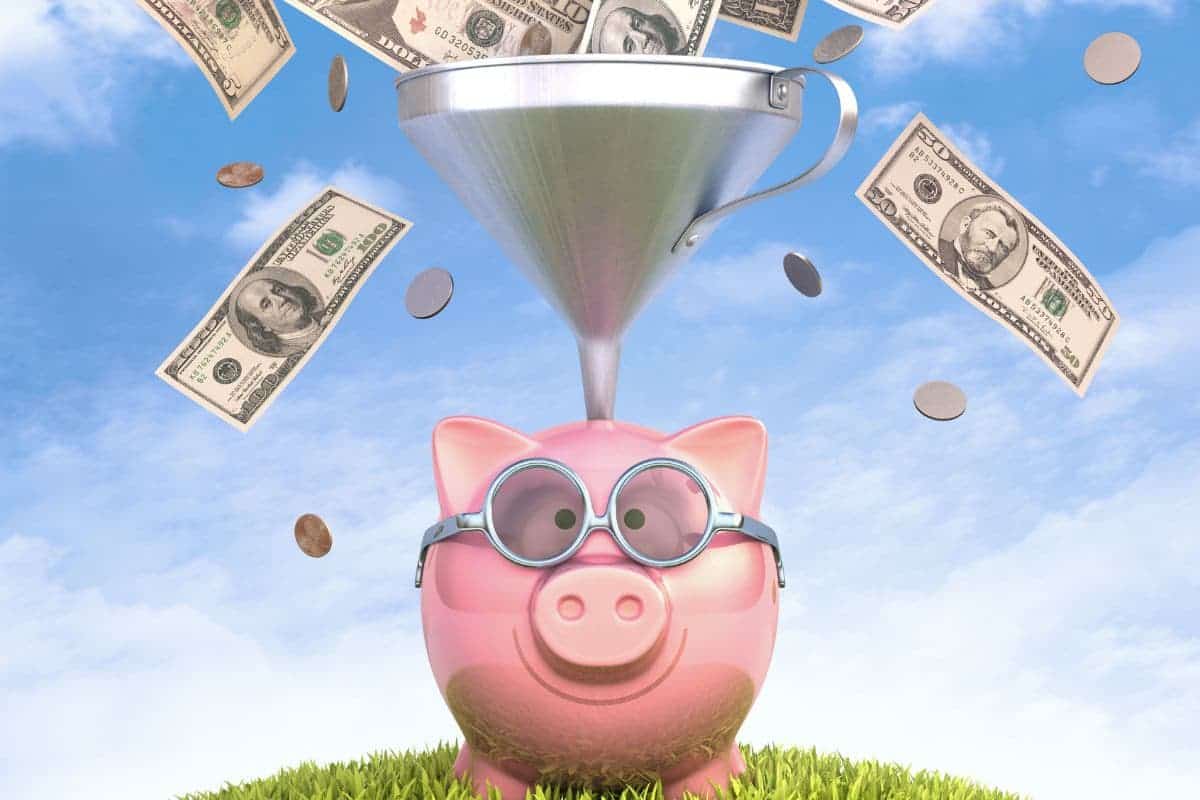 These fun money saving challenges will supercharge your savings, put a smile on your face, and make you feel empowered and in control.
Are you asking yourself "How can I make saving fun?"
Does it feel like you work hard but never quite get ahead?
Are you afraid to open the mail in case it's another bill?
Whether you are scraping by or doing well on your financial journey, fun money challenges can boost you. All it takes is the right motivation!
How Savings Challenges Make It Fun
Savings challenges make the difficult seem easy. Saving can be a bore. But it doesn't have to be! By giving your savings purpose, motivation, and a deadline, you save more in less time.
Choose one or more of the fun money saving challenges below, download the free printables, then check out the tips for success.
Now, let's. Get. Saving!
Short Money Challenges to Do at Home
1. No Spend Challenge
Dive into the deep end with the no spend challenge. Try it for a day, a week, or a month and go from zero savings to hundreds or thousands.
2. 30 Day Savings Challenge
Next, do you need guidance or structure? This 30 day savings challenge printable is for you! Follow the challenge day by day to improve your overall financial habits.
3. 30 Day Decluttering Challenge
Clean out your home and make money on your stuff. Or simply declutter your living space, so that you can streamline and focus on your life.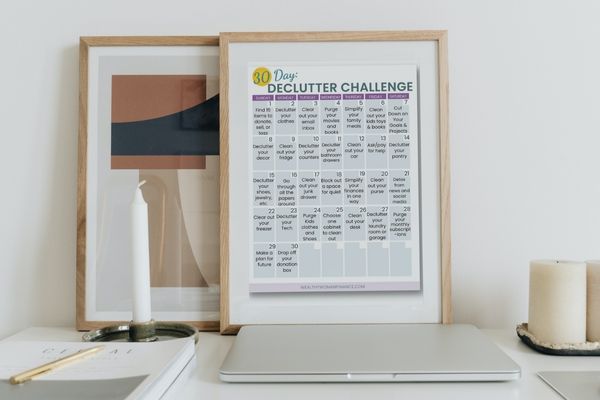 This 30-day minimalism challenge turns the act of decluttering into a game.
4. The Pantry Challenge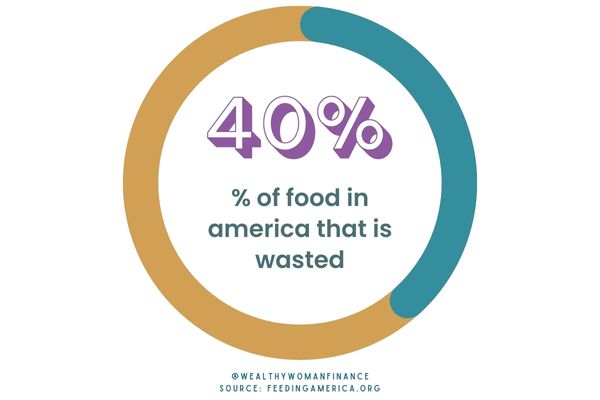 For one week, challenge yourself to cook meals only using ingredients on hand. This helps you save money on groceries and reduce food waste. Plus, you'll learn to improvise and get creative with your cooking creations.
5. Raise Your Income Challenge
While most financial gurus go on and on about saving, they miss something crucial. How much you earn is often the most impactful way to save more money.
Look at it this way, making an extra $300 is probably easier than clipping $300 worth of coupons. Or accumulating $300 in gas points.
6. Do a Cash-Only Week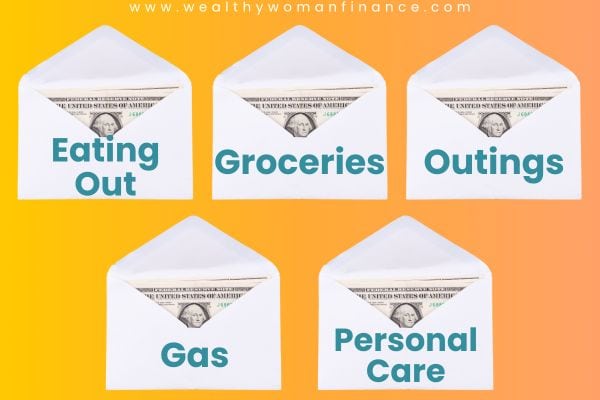 Next, make saving fun AND more tangible.
Take out your budget in bills for the week
Separate it into cash envelope categories.
Once you spend it, the money's all gone!
You'll learn a lot about your spending habits and how you can save more in the future.
7. Give Up a Vice
Next, bad habits are bad for a reason. Most of them cost you financially and in later health problems too. Improve your quality of life and save money at the same time!
Cut back or eliminate your habit for one month. Then, evaluate how you feel and how much money you saved.
When my husband and I gave up alcohol for a month, we saved $200! That means we were spending $2400 in the span of a year!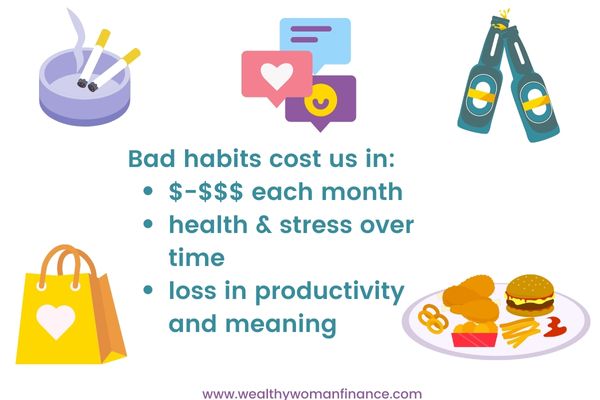 8. Free Entertainment Challenge
Could you spend a week or a month doing free things with your family and friends? Yes, it means you have to get creative. You might need to do research or have a talk with your friends about why it's important to you. But it's very doable!
9. Digital Detox Challenge
What would your life be like if you gave up digital entertainment for a month?
A. You'd save a lot of money NOT paying for streaming services, apps, etc.
B. You'd likely be happier. Swap out your couch time with nature and time with friends and family.
Pro Tip: Log out and unsubscribe from everything you can think of before starting!
After you complete the money saving challenge, you'll know exactly what digital entertainment is worth your money too.
Fun Long Money Saving Challenges
In these longer money challenges, you can save anywhere from $1,000 to $10,000. The sky's the limit!
10. 52 Week Challenge
Next, invest in your future with a 52 week savings challenge! Build consistency with your savings by trying a 12 month challenge that keeps you motivated.
11. 26 Week Money Saving Challenge
Is a year too long? Start with a 6 month or 26 week savings challenge instead.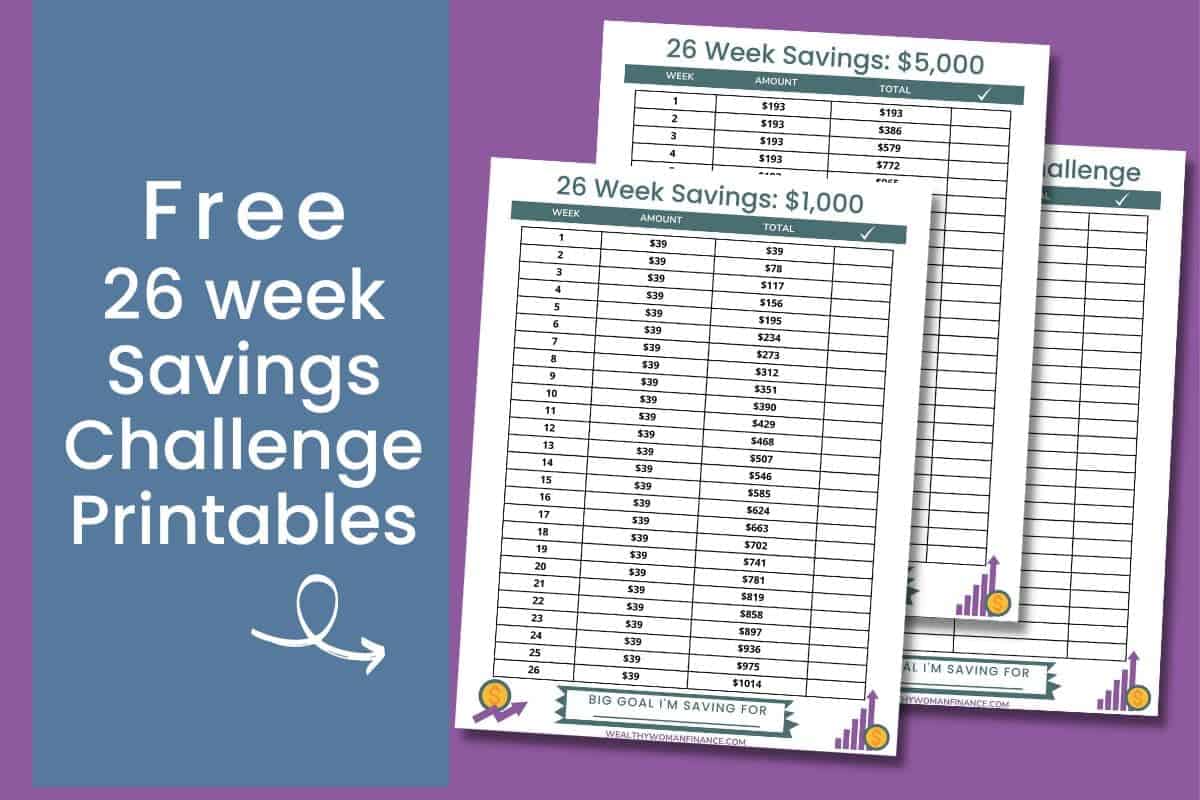 12. Penny Saving Challenge
*Great for low income or saving beginners
If saving large amounts is intimidating or seems impossible, then this penny saving challenge is for you. You'll build each day, until you've saved over $600. And it's painless!
13. Nickel Challenge
The Nickel savings challenge is similar to the one above but uses 5-cent increments instead of pennies.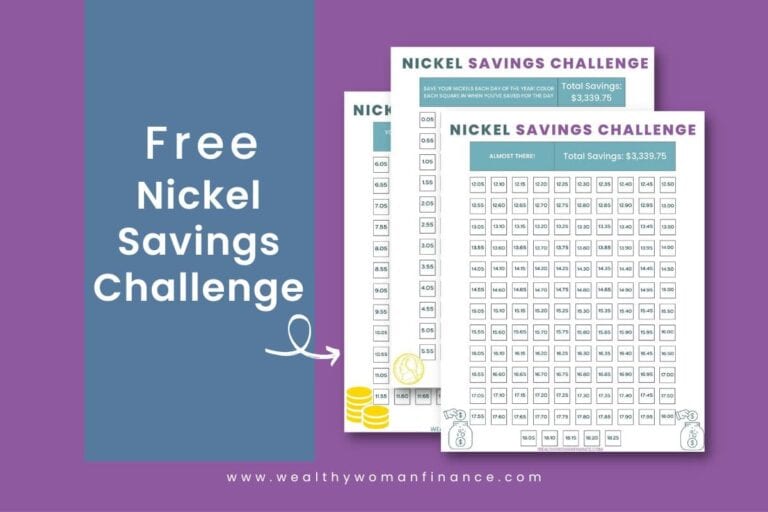 14. Low Spend Challenge
In the low spend challenge, you limit your spending for a set period of time. This could be a day, or it could be 3 months. Either way, you eliminate overspending and live a more minimalistic life.
15. BiWeekly Money Saving Challenge
Use this saving challenge as a variation to any of the other challenges! It is a great fit if you get paid biweekly. Instead of moving money into savings every week, you transfer money on payday, every other week.
Here's a biweekly saving challenge example paired with an envelope challenge: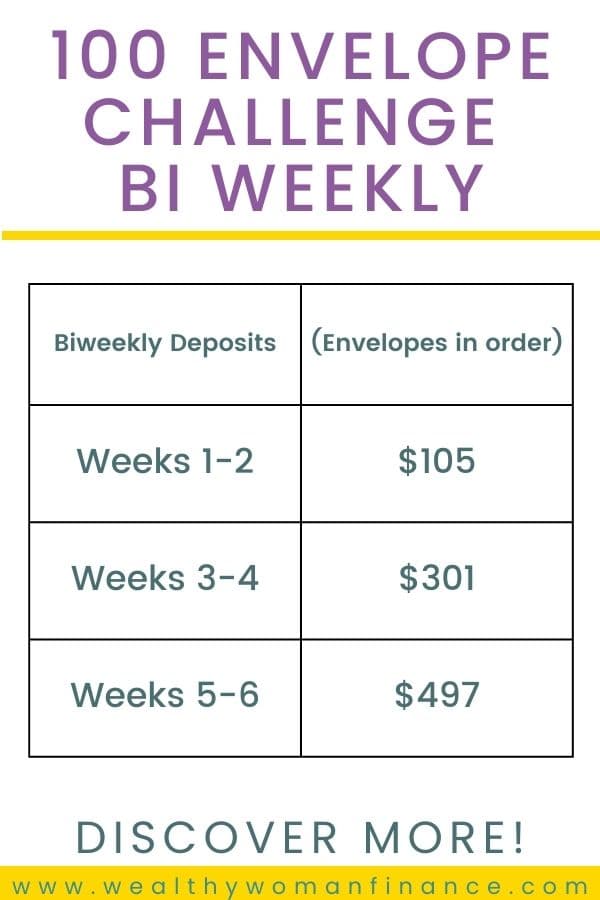 Pro Tip: Any challenge can be adjusted to match your income. If it has been a rough month, then lower the number. But don't stop. The important thing is that you're saving consistently.
Fun Envelope Savings Challenges
Next, these fun money saving challenges use cash. They are great for getting to the bottom of poor spending habits or making money visual.
16. 100 Envelope Savings Challenge
The popular 100 envelope savings chart has you saving $5,000 in 3 months. That's no joke!
17. 200 Envelope Challenge
And if you're reading for a longer version of the envelope challenge, try using 200 days instead. This variation is also great if you:
want to save more (like $10,000)
or need a little more time to save $5,000
Specific Money Savings Challenges
Next, these fun money saving challenges help you save for life's big goals and money dreams.
18. Emergency Fund Saving Challenge
Having 3-6 months in cash helps you stay out of debt. It also cuts money stress in half. It's not to be taken lightly! So, use the emergency fund savings challenge to get the amount you need into your account.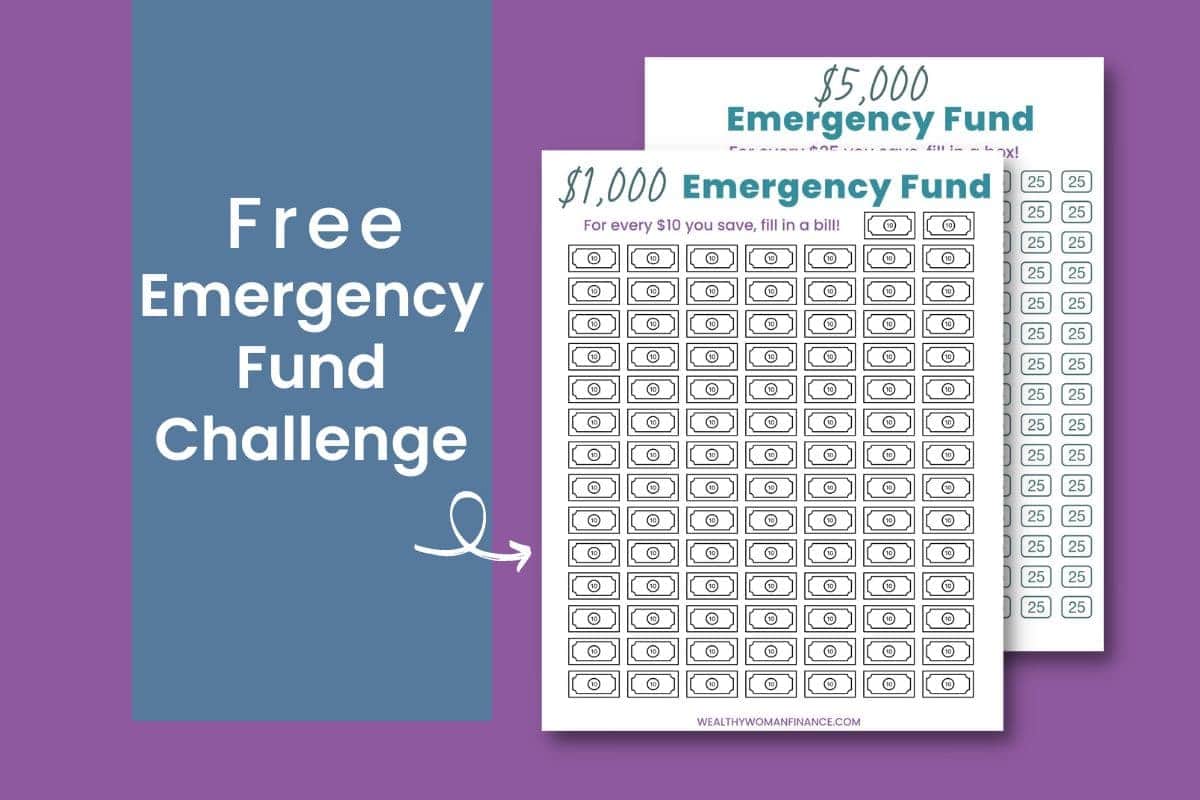 19. Super Charge Debt Payments
Is debt weighing you down? Take off those shackles! Complete a challenge that gets your debt down. Use the free debt payment trackers and commit to a number by a specific time.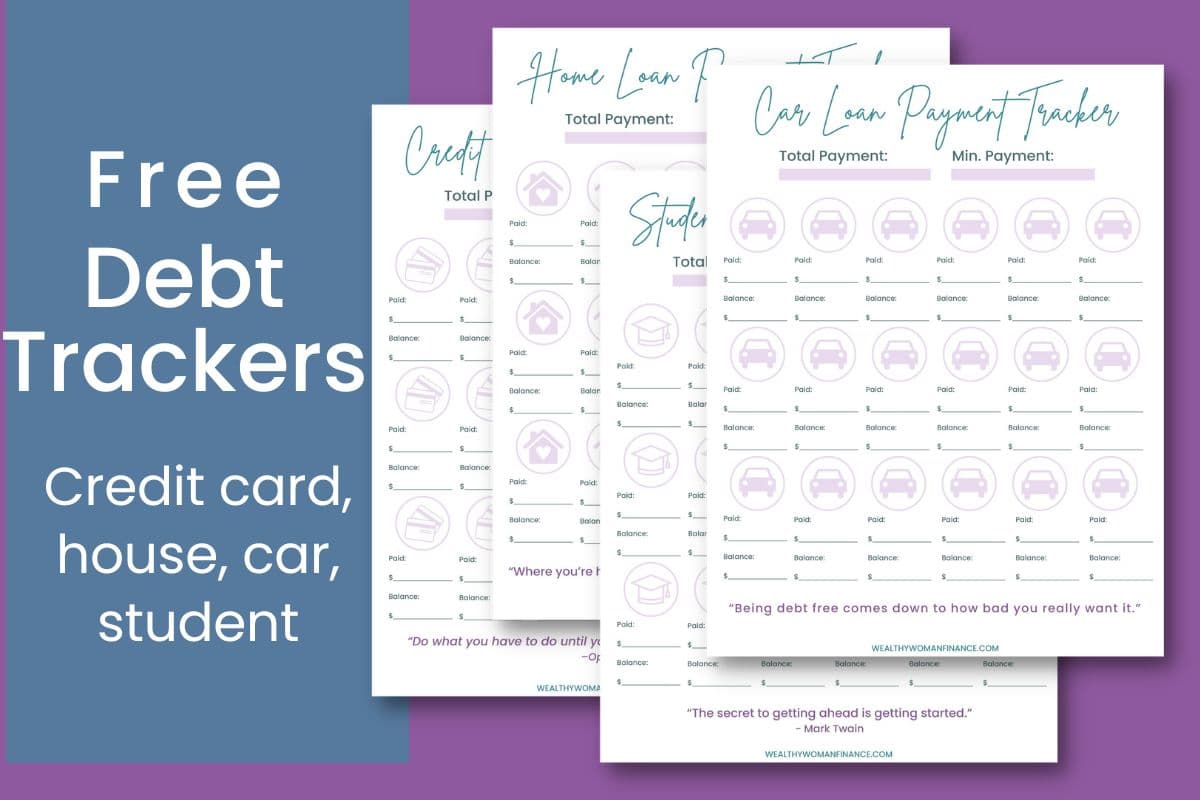 20. Vacation Savings Challenge
*Great for kids too!
Get your whole family involved in this vacation savings challenge! Put the tracker on your fridge along with the number you're saving for. Then, have everyone contribute savings into a jar.
21. Christmas Savings Challenge
Don't let the holidays sink you into debt! Save into a holiday fund ahead of time using the Christmas savings tracker and challenge.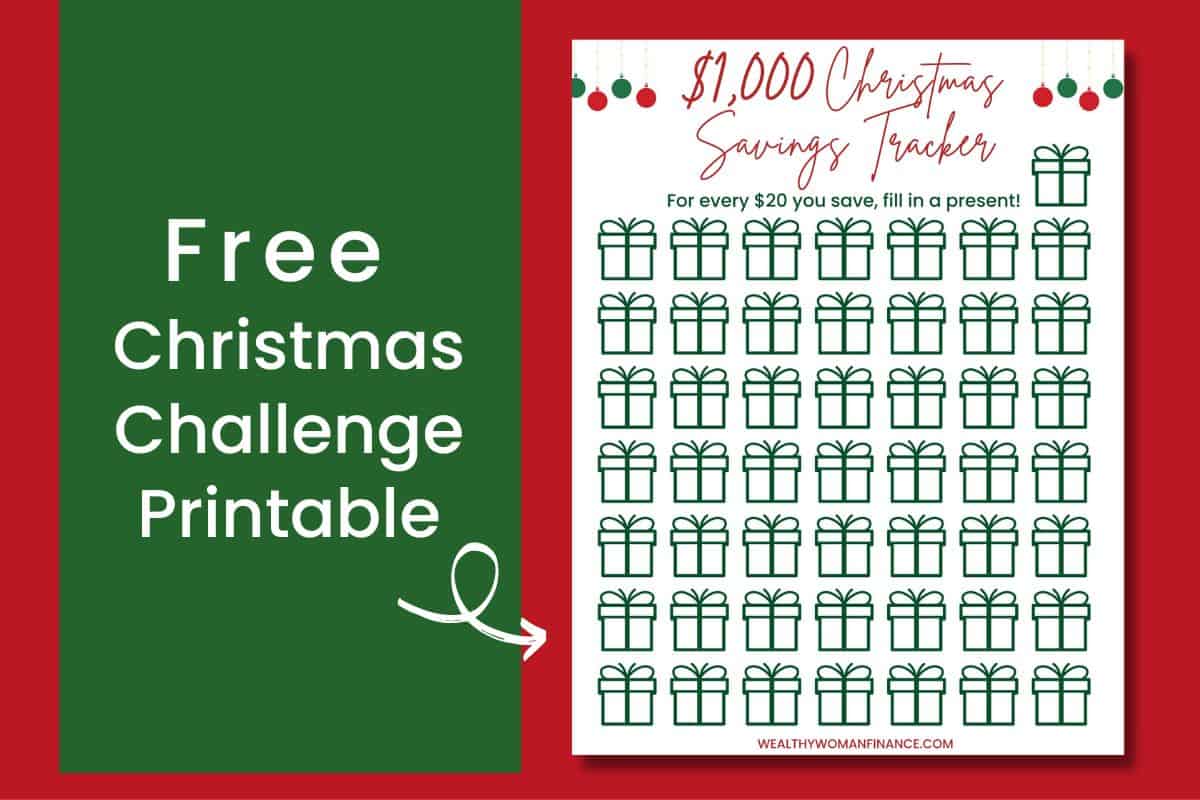 22. Stop Eating Out Challenge
If you find yourself ordering takeout often, then this fun money saving challenge is for you! Challenge yourself to give up eating out for a month or longer. Then, try these tips to make it happen:
Try a rotating meal plan (this helped my family tremendously!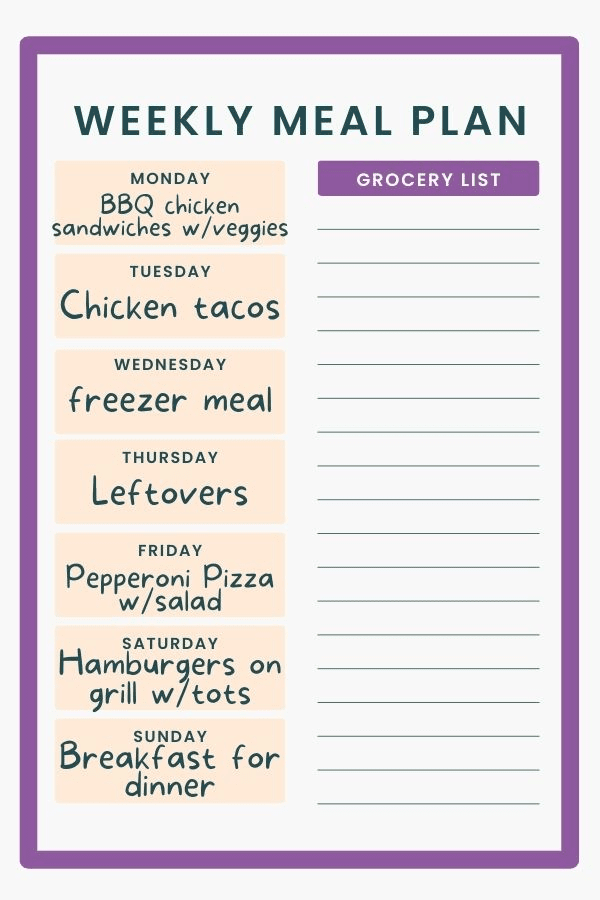 23. 1% retirement challenge
Boost your retirement without even feeling it. Bump up your retirement contribution in your 401K or IRA by only 1%. Chances are you won't feel the sting much, and you'll be letting compound interest help you massively over the years to come.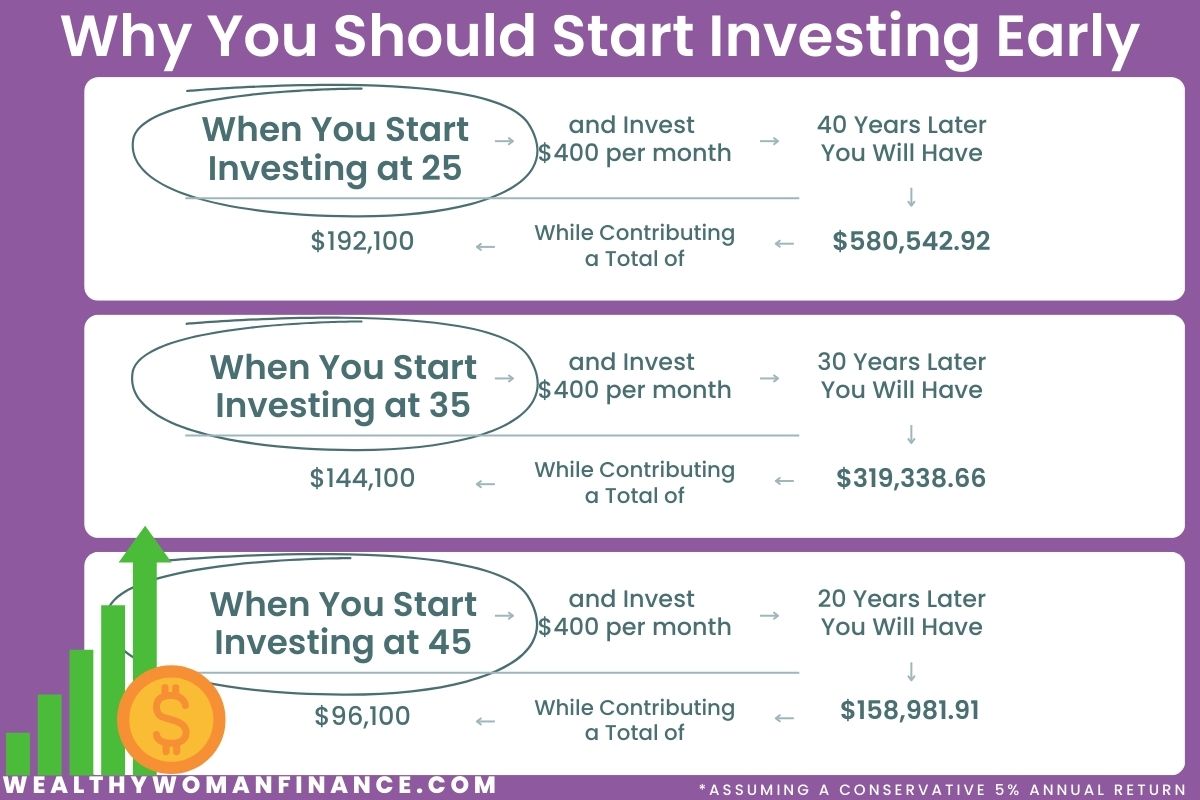 Fun Money Saving Game Challenges
Next, these money saving challenges are also games! You can't make saving more fun than doing it as a game!
24. Money Moves Bingo
Grab it below!
25. Board Game Challenge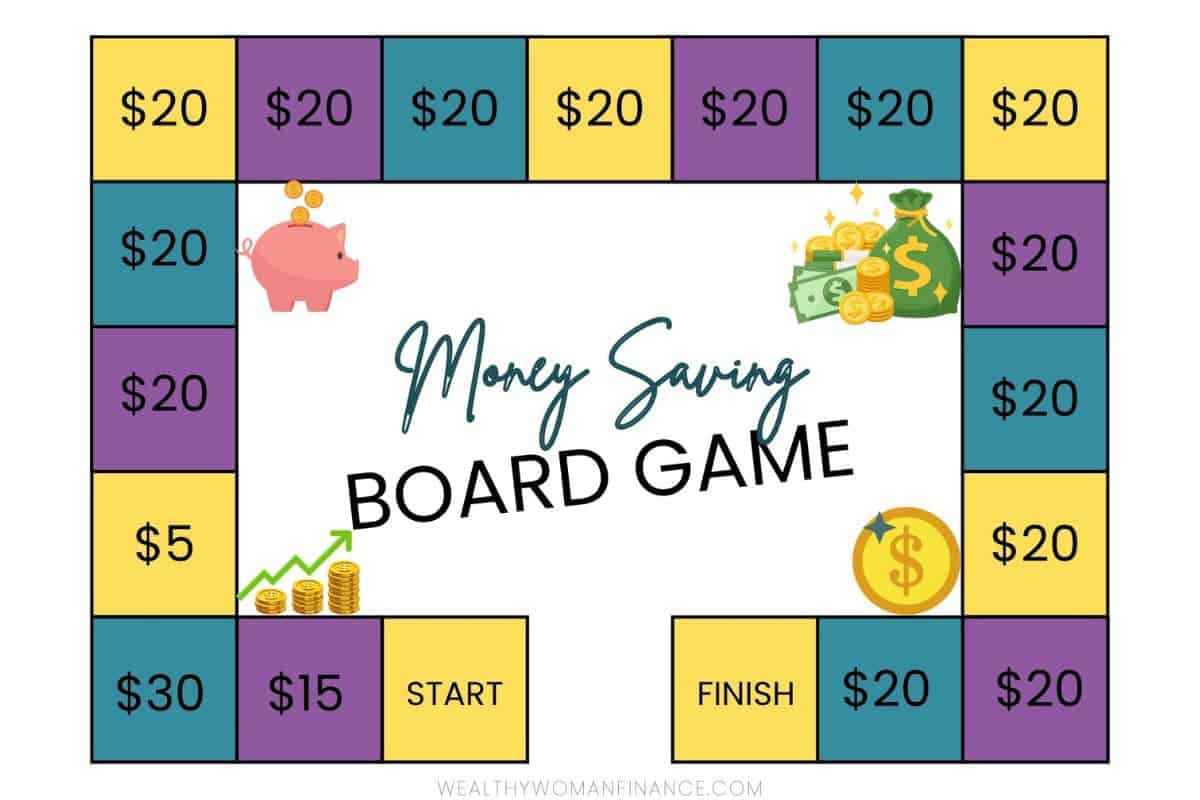 *Bonus: Different Financial Learning Challenge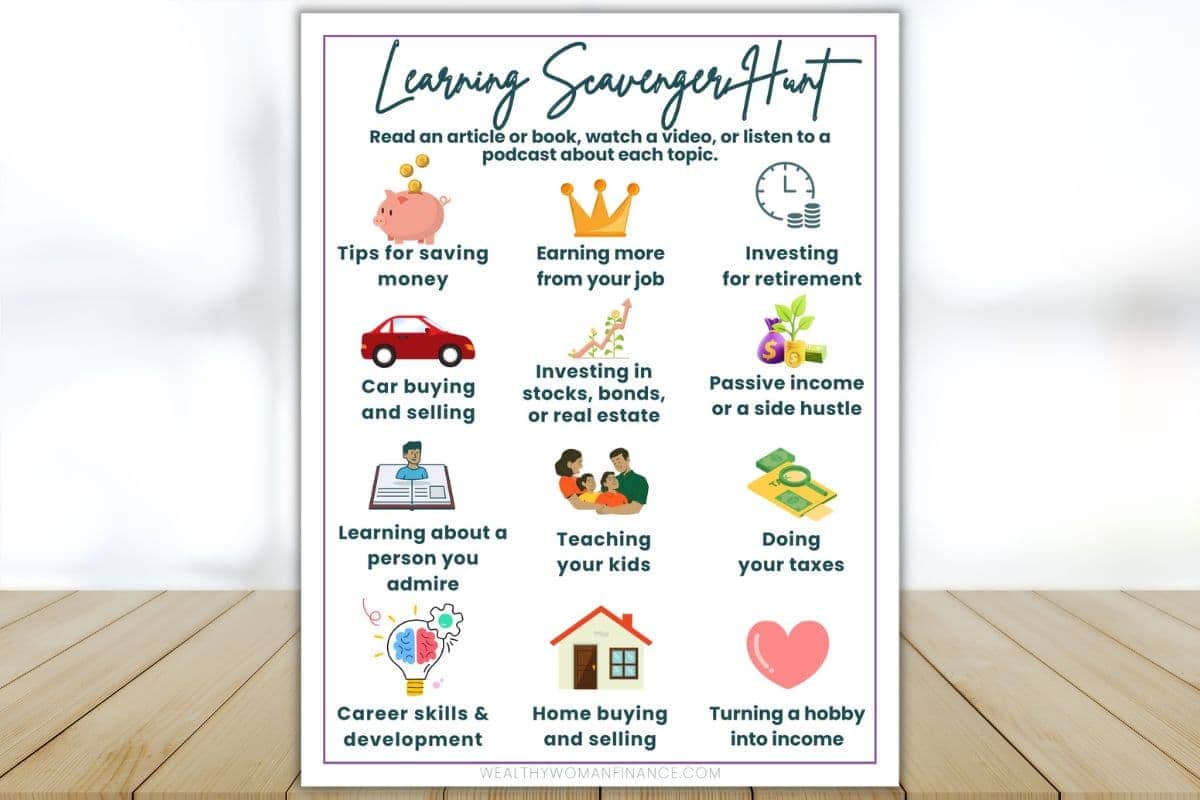 Best Tips For Saving Challenge Success
Keep track of your progress: Many of the fun money saving challenges in this article come with a visual tracker for a reason. It helps you stay motivated!
Grab a friend: Tell a friend what you're doing and see if they'll do it too. You can support each other through the good days and the bad.
Fill out a commitment card: It's a card that has everything you need to stay accountable.
Make specific savings goals: Write out exactly what you are saving for and why. Give yourself a deadline too. This clarity will be important as you get farther into any challenge.
What's Next?
Grab more money saving games and money motivation to make your dreams happen!